Fri, 05 June 2015 at 1:20 pm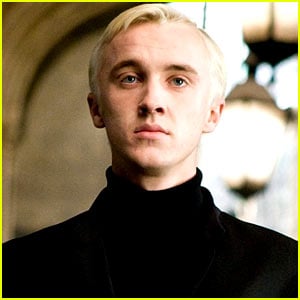 Ever wonder how old Draco Malfoy from the Harry Potter series really is? Well, thanks to J.K. Rowling, we can confirm that he just turned 35!
A fan realized that June 5 is Draco's birthday, so she tweeted the author and asked how old Draco (played by Tom Felton in the film franchise) is turning.
"Draco turns 35 today. I'm not invited to the party, mainly because I keep telling girls they're misguided to fancy him," J.K. wrote.
Rowling previously wrote on Pottermore to warn fans about crushing on a villain.
"I have often had cause to remark on how unnerved I have been by the number of girls who fell for this particular fictional character," she wrote. "All this has left me in the unenviable position of pouring cold common sense on ardent readers' daydreams, as I told them, rather severely, that Draco was not concealing a heart of gold under all that sneering and prejudice and that no, he and Harry were not destined to end up best friends."
.@gillianngracee Draco turns 35 today. I'm not invited to the party, mainly because I keep telling girls they're misguided to fancy him.

— J.K. Rowling (@jk_rowling) June 5, 2015
Like Just Jared Jr. on FB