Mon, 08 June 2015 at 2:40 pm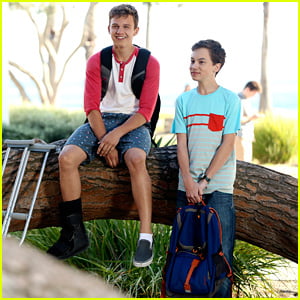 While we have yet to see the aftermath of the car crash that likely shook The Fosters family to its core, we also have tons to look forward to in tonight's premiere – namely Jude and Connor!
JJJ caught up with actors Hayden Byerly and Gavin MacIntosh, who portray the fan-favorite, on-screen couple, to get the scoop on what's ahead for #Jonnor now that they're officially together!
In the latest sneak peek, Connor is ready to tell their friends and kids at school about the relationship, while Jude is a little more hesitant.
The Fosters returns for season three TONIGHT, June 8 @ 8PM on ABC Family!
On why Jude is hesitant to tell people about his relationship with Connor:
Hayden Byerly: There are different reasons and as the season continues, we'll start to find out a little more about that. But as Jude has said in the past, he's not a person who likes labels, so I think that's big for him. He doesn't want to be labeled and that's a little aggravating for him. So he doesn't want to come out and be known as "gay." He just wants to be known as Jude and be known as himself. Being gay is just a part of that and I don't think he wants that to be the focus.
Gavin MacIntosh: One of the main reasons Jude doesn't want to tell people he's in a relationship with Connor is because he doesn't like labels and that's really Jude's thing. He doesn't like being labeled "gay." He thinks he should be able to have a relationship with Connor and not have it be seen as different than any other relationship. He's just like, "Hey, does anyone really need to know? It's not anyone's business." And I think Connor doesn't really understand Jude's view on it. I don't think he really understands, but I think with some guidance, he'll be able to understand eventually.
Click inside to read the rest of our interviews with Hayden and Gavin…
On the car accident and where we pick up:
HB: It hits the whole family a little hard and it picks up six weeks after the accident. You really get to see the after-effects of the car crash and how it affects the entire family.
On Jonnor's journey this season:
HB: We'll see some sweet moments between the two of them…I think it's figuring out what they are gong to do moving forward with the relationship.
On Jonnor fans:
HB: I think hearing all the different stories from each of them is something special. For them to share their stories about their personal lives, and open up, it's incredible. Hearing all the different people who have gone through struggles who are happy now is something that's incredible. And I hear that so many times and those are my favorite stories to hear.
GM: There's this one fan from North Carolina, he told me an amazing story about how he was bullied as a kid. He was a boy and he wanted to turn into a girl. He gave me an incredible story about the scrutiny that people like him are under and how people think they're not normal people, and how transgender people are not like the rest of us. And that's not true. Anyone who is LBGT should have the same rights as anyone else. He really opened my eyes to that whole subject.
On working with each other:
HB: I think that sometimes it helps and sometimes it doesn't. To have chemistry between two characters…you know, Gavin and I are friends, so to see a friendship on screen is obviously going to be easier because you're already friends.
GM: When we're on set, there's no tension between scenes or anything like that. That's what makes it a lot easier to be close with him in real life. It really translates on screen and a lot of people notice that.
On what they're excited to see play out on-screen this season:
HB: We're going to see a lot more sweet moments that Jude has with different family members. In this upcoming episode, we're going to see Jude's dad and take a look at him again, so I think that's going to be one of my favorite scenes to see.
Like Just Jared Jr. on FB