Thu, 11 June 2015 at 4:30 pm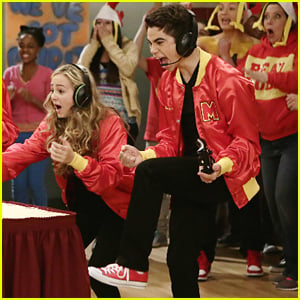 Cameron Boyce and Sophie Reynolds celebrate in this first-look still from their upcoming Disney XD show, Gamer's Guide to Pretty Much Everything.
The series centers on a 15-year-old professional video game-playing phenom who is forced to enroll in public school for the first time and now must deploy his virtual gaming acumen to circumvent real-life challenges.
In the premiere episode Conor (Boyce) desperately wants to get his pro card back, so he recruits new classmates Franklin (Felix Avitia), Wendell (Murray Wyatt Rundus) and Ashley (Reynolds) to play the game for him. However, a failed attempt to ditch school early to practice the game lands the foursome in detention with the toughest teacher in the school.
The team must find a way to escape detention before the online gaming tournament begins if Conor has any hope of returning to the pro gaming circuit. Stampy Cat makes a cameo in this episode as the announcer for the pro gaming tournament.
"Gamer's Guide to Pretty Much Everything" premieres on Wednesday, July 22nd @9:30PM ET/PT on Disney XD.

"Gamer's Guide to Pretty Much Everything" Teaser
Like Just Jared Jr. on FB