Thu, 11 June 2015 at 2:30 am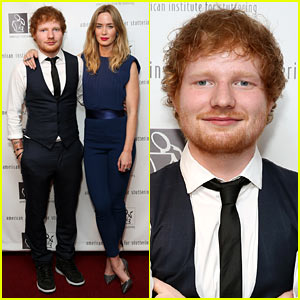 Ed Sheeran looks like a suave stud while posing for photos at the 2015 American Institute for Stuttering Freeing Voices Changing Lives Gala on Monday (June 8) in New York City.
The 24-year-old singer met up with Into the Woods actress Emily Blunt on the red carpet at the event.
Ed was in attendance to give an inspiring speech on how he overcame his stutter.
"I was a very, very weird child. I had a port-wine stain birthmark on my face that I got lasered off when I was very young; one day, they forgot to put the anesthetic on, and ever since then, I had a stutter," Ed said (via The Hollywood Reporter). "I also had very big, blue NHS glasses – NHS is the National Health Service, one day I hope you'll have the same! And I lacked an eardrum on one side of my ear, so stuttering was actually the least of my problems!"
Read the rest of the speech now on
Like Just Jared Jr. on FB