Wed, 17 June 2015 at 11:00 am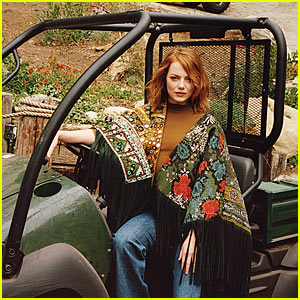 Emma Stone looks like perfection in the July/August 2015 issue of WSJ. Magazine, hitting newsstands on June 27.
The 26-year-old beauty stars in Woody Allen's new film, Irrational Man, in theaters July 17. Watch the Irrational Man trailer now!
Here's what Emma shared with WSJ:
On how she reacted when her phone number and email address were published during the Sony Pictures hack: "Then I did one of the worst things ever, which was react really quickly. I was getting all these emails and texts from people I didn't know—'Hi, I'm Joe from the U.K. I like your movies'—and I was so overwhelmed that I went to my inbox and I deleted all my emails. In about a 30-second span, I hit 'Select All' and 'Delete Forever,' and thousands of emails, like six years of emails, are now gone forever. I was just so freaked out that someone was in there…It was horrible. I cried for like an hour. Most of the emails I'm mourning I can still talk to the person and get them back. But there's others where the person is actually gone. It really sucks."
On growing up with anxiety: "It was really bad. The first time I had a panic attack I was sitting in my friend's house, and I thought the house was burning down. I called my mom and she brought me home, and for the next three years it just would not stop. I would go to the nurse at lunch most days and just wring my hands. I would ask my mom to tell me exactly how the day was going to be, then ask again 30 seconds later. I just needed to know that no one was going to die and nothing was going to change."
Watch Emma's video interview at WSJ.com!
Like Just Jared Jr. on FB
Credit: Angelo Pennetta; Photos: WSJ. Magazine
Posted to:
Emma Stone