Tue, 14 July 2015 at 5:00 pm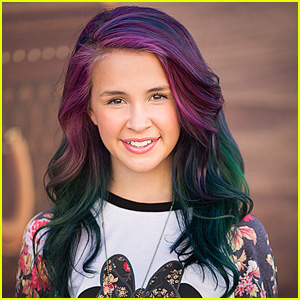 Let us introduce you to the talented actress Sixx Orange!
The 13-year-old Maryland native currently stars on Amazon's show The Kicks, which is based on the best selling book series written by Olympic gold medalist, Alex Morgan.
"Filming The Kicks was such an amazing experience!" Sixx told us. "Being able to act and play soccer at the same time, it just doesn't get better than that!"
Sixx added, "My jaw practically hit the floor when I found out that I would be filming with Alex Morgan. I have always looked up to her as a soccer player since I was a little girl and I'm super thankful to be able to be a part of bringing her amazing books to life"
"Another cool thing about working on The Kicks is being able to promote women's soccer," she told JJJ. "I feel honored to be able to spread that amazing message of strong and talented women all over the world! You know exactly what I'm talking about if you watched the 2015 Women's World Cup!"
Check out 10 more fun facts about Sixx:
1. Yes my real name is Sixx Orange, my first name comes from the old TV show my dad loved called Blossom.
2. I have been playing soccer since I was 4 years old.
3. I'm SUPER obsessed with the TV show Pretty Little Liars.
4. Traveling is something that I enjoy most, there is many places that I dream about and are on my bucket list.
5. I am crazy about room designing. I love to come up with different color pallets, ideas of furniture and accessories.
6. I was born and raised in Annapolis, Maryland.
7. I have been coloring my hair since I was 6 years old and believe it or not that is what I call my natural hair color (haha!).
8. I have a huge goal of being able to play the guitar solo in the song "Creeping Death" by Metallica.
9. My godfather is the "S" in N'SYNC.
10. My favorite thing to snack on is S'MORES!!! I could literally eat like 5 a day!
Like Just Jared Jr. on FB