Wed, 22 July 2015 at 11:30 am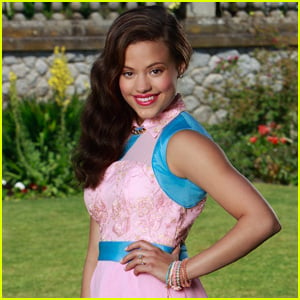 Let us introduce you to the lovely Sarah Jeffery!
The 19-year-old actress stars in Disney Channel's new original movie Descendants, which premieres on July 31!
Sarah plays Audrey, who she describes as "the daughter of Sleeping Beauty/Aurora and Prince Phillip. She's captain of the cheerleading team at Auradon prep, super fashionable, and she takes pride in the fact that she comes from royalty. Although she's suspicious of the villain kids, she has a good heart and is looking out for her school's best interest."
"Some of the highlights [of filming] would have been working with the spectacular Kenny Ortega who I highly admire, becoming extremely close with my castmates, and getting to develop Audrey as a character, cause she is so much fun!" Sarah added.
Meanwhile, Sarah is also busy filming a new TV show with Jennifer Lopez called Shades of Blue.
Here are 10 other fun facts Sarah told us about herself!
1. The first acting gig I ever got was for a High School Musical board game commercial when I was 11!
2. I have 4 siblings, the youngest is 12 and the oldest is 41.
3. I gag at the sight of carrots. Seriously though. But I love carrot cake! So weird.
4. When I was three I was dancing to "I Wan'na Be Like You" from Jungle Book, and I fell and cracked my forehead open and got rushed to emergency for stitches!
5. I'm totally obsessed with anything Kate Spade.
6. Actors I admire include Ricky Gervais, Mark Ruffalo and Thandie Newton because they stand up for what they believe in (animal rights, equality rights etc.)
7. I've been dancing since I was three, and if I wasn't an actor I'd definitely be a professional dancer.
8. My real life dad played my onscreen dad in an episode of FOX's Wayward Pines!
9. I despise ranch dressing more than anything.
10. I wanted to be a dentist from the age of 3 until about 16.
10+ pics inside…
Like Just Jared Jr. on FB