Thu, 30 July 2015 at 6:30 pm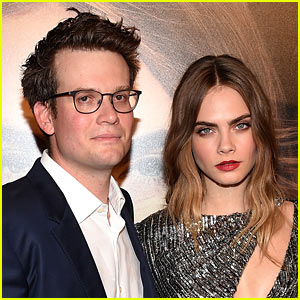 Cara Delevingne is opening up more about that awkward interview she was put through while promoting her movie Paper Towns and she is thanking the book's author John Green for his defense.
The popular author wrote a long blog post to explain why the interview might have went the way it did. Here's an excerpt: "Cara refuses to stick to the script. She refuses to indulge lazy questions and refuses to turn herself into an automaton to get through long days of junketry. I don't find that behavior entitled or haughty. I find it admirable. Cara Delevingne doesn't exist to feed your narrative or your news feed – and that's precisely why she's so f–king interesting."
PHOTOS: Check out the latest pics of Cara Delevingne
After Cara saw that excerpt floating around social media, she tweeted saying, "Whoever said this! Thank you so much!"
John wrote back to her saying, "That was me! <3" and she wrote a heartfelt response back. See below!
@johngreen thank you so much john!! I just read the article and it made me want to cry! You are so special!! I am so happy I know you x

— Cara Delevingne (@Caradelevingne) July 30, 2015
Click inside to read more of Cara Delevingne's tweets on the subject…
I am soooooo lucky and anyone who thinks I am unappreciative or ungrateful clearly doesn't know me

— Cara Delevingne (@Caradelevingne) July 30, 2015
I work really really hard and love what I do, I don't feel like I need to apologize for being human #sorrynotsorry

— Cara Delevingne (@Caradelevingne) July 30, 2015
Like Just Jared Jr. on FB