Wed, 19 August 2015 at 12:30 pm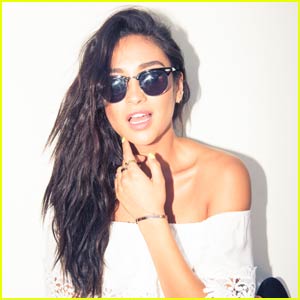 Shay Mitchell keeps it cool in shades for this new The Coveteur feature!
The 28-year-old Pretty Little Liars star opened up about beauty, fashion, and her craziest fan moments. Check it:
On traveling: "Make-up wipes are a must on any plane. I do not wear a stitch of makeup when I travel. I just think it's the worst thing you can do and I always end up landing with a new little buddy on my face, so I don't like to wear makeup when I travel! I am the person sitting next to you with a sheet mask on, the ones you fold out. I've scared a couple people in my past travel. I put that on because you get so dehydrated on the plane."
On her style: "I just think it's so much more special when you're going vintage shopping or you're traveling somewhere far. Like in Morocco, I did a lot of shopping and I found some really cool purses that you can't get anywhere else and I love that. I just love pieces that have a story behind them so not only am I wearing it but then I can kind of share where I was when I got it. It's a little bit more interesting than just getting it at the store."
On her fans: "I saw somebody in Australia with a tattoo of my face on their leg. That was kind of crazy! It was an interesting take too, they made me look like a zombie. Whenever you meet somebody in person and they have your name on their wrist, or a quote that you've said in an article, it's kind of like, 'Oh my god, that's so permanent, thank you, but wow.'"
For more on Shay, visit TheCoveteur.com.
Like Just Jared Jr. on FB