Wed, 26 August 2015 at 3:30 pm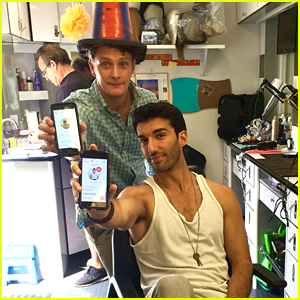 Justin Baldoni recruits pal and Jane The Virgin co-star Brett Dier to help him promote his new app, Shout The Good.
The app, developed by Justin and Internet entrepreneur Payam Zamani, is already out and poses the question "How Good Are You?" It is the newest application that measures people's character and their willingness to see the good in others with a score from 1-100.
Shout The Good creates a balance on social media and hold people accountable for how they treat others. By helping people remember just how much they impact one another, the founders hope that it will encourage an outpouring of positivity that can help us focus on becoming the best version of ourselves.
"There is too much pain and negativity in the world, especially on social media. It seems like everywhere we look online something pops up that reminds us about what's wrong in the world, or focuses on someone's drama or gossip. Now yes…we are human, and we're always going to be intrigued by those darker parts of life, but I really believe for every negative post or gossip article…there needs to be something to offset that negativity to create a balance," Justin told JJJ.
He added, "It kind of blows my mind that even though we're more connected than we've ever been to each other (via social media and our phones ) at the same time we're also seemingly the most cut-off, lonely, and isolated. We document and share our lives via Instagram and Twitter, but we don't realize that at the same time we compare ourselves and our happiness to other people's based on how many followers and likes they get. We built Shout to be a place where anyone can go to be reminded of why they matter in the world, and to use their voice to shout the good about their friends. Only the good lives on Shout, the rest of the Internet can handle the negativity."
"I hope the fans of Just Jared will download this app. They are our perfect audience! With Shout, your friends are telling you things about yourself that are great. With a simple swipe, you can let someone know that they are honest, trustworthy, happy, or inspiring…and then see all the good your friends think about you!"
Shout is free on the App Store and Google Play — just search for Shout The Good! Check out a demo below!

Shout App Demo
Like Just Jared Jr. on FB
Credit: justin-brett-shout-app-social.jpg
Posted to:
Justin Baldoni