Thu, 27 August 2015 at 1:00 pm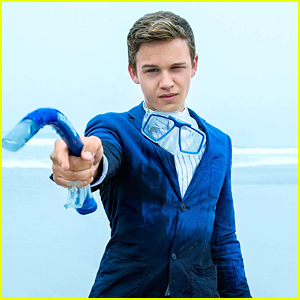 Gavin MacIntosh gets ready for a scuba adventure in a suit in this shot from Bello mag's August 2015 issue.
The 16-year-old actor opened up about playing Connor on The Fosters, dream roles and more. Check it:
On his groundbreaking role on The Fosters: "This is long overdue. I mean there's been progress on network TV with showing equality issues, but this is the first show that addresses the emotional state of young kids and what they're feeling. I mean these feelings often start young so it's important to have this representation. It helps a lot of these kids feel more confident and less shameful, and just really grow up normally because they're normal. They don't deserve to be treated differently. Unfortunately there still is bullying, and I'm hoping by my role that Connor can somehow help this. You know, I think he has. I think this whole Connor and Jude storyline is pushing this whole issue more to the forefront. It's touching this new generation and instilling acceptance. So I'm hoping it helps some kinds feel confident."
On his first time at LA Pride: "That was such a cool experience. It's unbelievable I got to be a part of it. You know, I'm surprised of all the different demographics that came together. Every time I go to equality events, I learn something. It fuels me and I learn something more about my role as Connor. I realize how important the show is, and it helps me realize how important the storyline is. It's really something that needs to be told. Reaching out and meeting people that watch me on TV, the people that I'm affecting, it helps me do better in the role of Connor."
On dream roles: "What would be really cool is to play in action films such as Mad Max or Warrior. They both star Tom Hardy. Can you tell I'm a hardcore Tom Hardy fan? (laughs) I've always wanted a role that's physically demanding, or that I might have to train for. Like The Rock in Hercules, he had to train for months, and build up and get into the character. I've always wanted to have a character like that."
Be sure to see Bello's entire August issue on the APP!
Like Just Jared Jr. on FB