Tue, 01 September 2015 at 7:00 pm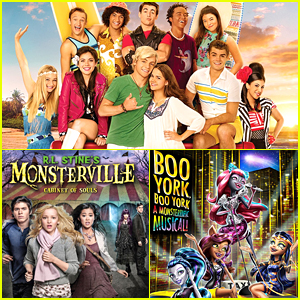 Netflix just released a brand new list of kids movies and television shows that will be coming the streaming service in September!
JJJ spots the newest Monster High movie, Teen Beach 2, The Fosters, Baby Daddy and even Dove Cameron's new movie, Monsterville: Cabinet of Souls!
Click inside to see the full list of kids television shows and movies coming to Netflix in September…
Available 9/1/15
72 Dangerous Animals: Australia: Season 1
Australia is full of dangerous animals – but which creature is our country's deadliest? From the Freshwater Crocodile to the Cane Toad, we're counting down to the most dangerous Aussie animal.
Arthur: Season 17
Based on the books by Marc Brown, these are the adventures of Arthur, an 8-year-old aardvark, and his family and friends as they grow up and learn how to be good neighbors to one another.
Da Jammies: Season 1
While enrolled at a performing arts middle school, five talented tweens band together to form a hip-hop and R&B group in this animated musical series.
Giggle and Hoot's Best Ever! (2014)
Best friends Giggle and Hoot share their adventures and open their crazy house to guests, silliness, dance, and music that kids can enjoy.
Mister Rogers' Neighborhood: Volume 1
Fred Rogers explores various topics for young viewers through presentations and music both in his world and in the Neighborhood of Make-Believe.
Mouk: Season 1
Mouk is an animated series for young children about a little bear called Mouk who travels the world on his bike. This educational preschool show teaches kids and toddlers about diversity, cultures and the importance of keeping an open mind.
Pandas: The Journey Home (2014)
Get an extraordinary look inside China's Wolong Panda Center, where giant pandas bred in captivity are prepared to be released into the wild.
Puffin Rock: Season 1 – NETFLIX ORIGINAL
Join the adventures of Oona and Baba as they explore Puffin Rock.
The Adventures of Sharkboy & Lavagirl (2005)
Rejected by his classmates, a 10-year-old dreamer invents two imaginary friends — powerful Sharkboy and fire-producing Lavagirl — but soon learns they aren't imaginary when they call on him to help defeat the nefarious Mr. Electric.
Zathura (2005)
After discovering a mysterious game in the basement of their house, two pint-sized brothers are sent flying into space, where they must finish the game by reaching the planet Zathura — or be trapped in galactic limbo forever.
Zoo Clues: Season 1
Amazing animal facts and fun trivia for children, adults, and families.
Available 9/4/15
Baby Daddy: Season 4 (new episodes)
A 20-something bachelor bartender becomes an unlikely parent when an ex-girlfriend leaves a baby girl on his doorstep.
Bad Night (2015)
When Kate (Lauren Luthringshausen) and Abby (Jenn McAllister) are mistaken for famous art thieves (Juillianna Guill and Judy Marte), their fun night out quickly goes from good to bad, and Mrs. Goldstein's (June Diane Raphael) boring class field trip turns into the trip of their lives. But now they have to contend with a rollerskating Russian Mobster (Matt Walsh), a "method painter" with one ear (Adam Pally), a pregnant tattoo artist (Casey Wilson) and The Collector, a Bond girl turned Bond villain (Molly Ringwald). Whether or not the BFFs can survive is as much a question as whether or not their friendship can.
Available 9/7/15
Space Dandy: Season 2
The cosmic and comic adventures of Space Dandy, a handsome space explorer tasked to tour the universe and discover new alien beings.
Available 9/9/15
Teen Beach Movie 2 (2015)
Modern day teens Mack and Brady get a real world visit from Lela, Tanner, Butchy, and other surfer and biker pals from the beach party film within a film, Wet Side Story.
Avail 9/13/15
Pixies
Joe Beck has lost the love of his life thanks to a Pixie's Curse and he now needs to figure out how to get his girl back, learn more about the mysterious Pixies and undo a bad deed he did long ago.
Avail 9/15/15
Canimals: Season 1
Modern day urban pixies – mischievous, adventurous and inquisitive. They love to play and create innocent mayhem.
Kambu: Season 1
Kambu is the new maildog, and he wants to make some friends. However, it's going to be a little more difficult than he thought because the inhabitants of this outpost are… just too darn peculiar. And the work keeps mounting up and there's always a package to deliver.
Zoobabu: Season 1
It's a bird… It's a bear… It's Zoobabu! A playful lively box and 104 lighthearted animals collaborate to bring you the funniest animated guessing game. Step by step, hint by hint, the box will give the clues to find out which animal is hiding inside the box:Zoobabu!
Avail 9/16/15
The Fosters: Season 3
Teenager Callie Jacobs is placed in a foster home with a lesbian couple and their blend of biological, adoptive and foster children.
Avail 9/22/15
SMOSH: The Movie (2015)
From the creators of SMOSH, Ian and Anthony go inside the YouTube portal to delete an embarrassing video of Anthony before his high school crush, Anna, has the chance to see it. They run into one YouTube celebrity after another on their quest to rewrite history before their high school reunion.
Avail 9/25/15
VeggieTales in the House: Season 1 (New Episodes) – NETFLIX ORIGINAL
The exciting new adventures of Bob the Tomato, Larry the Cucumber, and all their Veggie friends as you've never seen them before in the house
Avail 9/29/15
Monster High: Boo York (2015)
It's fright lights, big city when the Monster High ghouls head to Boo York! Cleo de Nile is invited to attend a fancy gala celebrating the return of a magical comet and, of course, she brings along her beast friends. But their trip isn't all fun and frightseeing because Nefera, Cleo's sister, uses the comet's powers for her own spooktacularly sneaky plans.
RL Stine's Monsterville: Cabinet of Souls (2015)
Dare to enter a mysterious realm, where the cost of admission just might be your soul. From the dark imagination of renowned author R.L. Stine and starring Dove Cameron (Descendants), Katherine McNamara (Maze Runner: The Scorch Trials), Ryan McCarten (Liv and Maddie), and Tiffany Espensen (Kirby Buckets) comes an original chilling adventure.
Available 9/30/15
Leafie: A Hen into the Wild (2011)
A hen named Leafie, who dreams of hatching one of her own eggs, gets the chance when she's entrusted with an orphaned duck egg.
Like Just Jared Jr. on FB