Wed, 09 September 2015 at 1:00 pm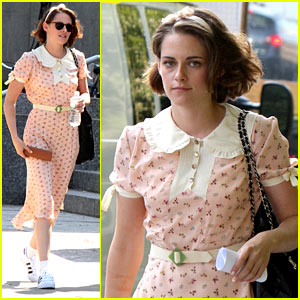 Kristen Stewart gets into costume while working on her upcoming Woody Allen movie on Tuesday (September 8) at the library in Brooklyn, N.Y.
Also spotted on the set that afternoon was Jesse Eisenberg!
While at the Venice Film Festival over the weekend, Kristen spoke to Indiewire about moving back and forth between independent and studio films.
"I feel equally invested and fervently drawn to every part I've done. I've never done anything where I was like, 'OK, let's just get this one finished'. A lot of actors say 'One for them, one for me", but I could never do that. I would be terrible. They would fire me," Kristen said.
"If you step outside of yourself and start tactically maneuvering your career, it actually makes no sense whatsoever, I don't think it's possible. Sure, there are sociopathic actors out there. But acting requires your heart to be so, so in it," Kristen added. "Every single time I agree to do a movie I'm terrified. I think, 'Oh my God, am I really going to tell them that I can do this?' But then I jump in. It's always the same, the budget makes no difference."
Like Just Jared Jr. on FB