Fri, 18 September 2015 at 4:00 pm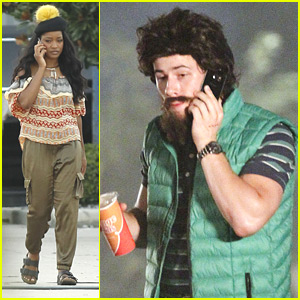 Nick Jonas tries to go incognito while filming new scenes for Scream Queens on Thursday afternoon (September 17) in New Orleans, La.
The 23-year-old actor shared the scene with Chanel #3, Billie Lourd, after changing out of his letter sweater earlier in the day.
Nick was spotted on the set just the day before (which was also his birthday) with Skyler Samuels and Keke Palmer.
"It's a really smart look at our generation. I'm all about our generation and the emotions of the millennials, and Ryan [Murphy] has a great grasp on our generation," Keke told Variety about the show. "He has a great way of making light of it and poking fun at it without being disrespectful. They have a good way of offering an inside look that other people wouldn't know. If there's a gay character, you think you know that character, but then you realize these stereotypes and judgments are not real and there's a lot more depth."
She continued, "Emma [Roberts] is playing the rich girl, but she's more than that. We'll give you what we assume to be the stereotype, but there's so much more than that. And I really appreciate that. It's good to have that on (broadcast) where so any people are going to see it. They're going to be exposed to so many kinds of people in a way they never have before."
Like Just Jared Jr. on FB