Wed, 23 September 2015 at 8:30 pm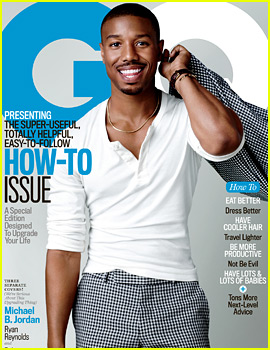 Michael B. Jordan looks so handsome on the cover of GQ magazine's October 2015 issue.
Here's what the 28-year-old actor had to share with the mag:
On the backlash after hanging out with Kendall Jenner: "It's the world we live in. They see white and black. I don't. Kendall's a friend of mine, you know. I don't know her, like, that well, but I know her enough. People's perspective on that is what it is. I don't f*cking know. I don't live my life to make other people happy. It's so weird, though, right? A lot of black fans were feeling like 'Oh, my god, he should have been with a black woman' and that whole thing."
On changing the trajectory of his career: "I told my team after I finished Chronicle that I only want to go out for roles that were written for white characters. Me playing the role will make it what it is."
On getting female attention: "I understand what females want and need, you know. I'm good at that. I don't know if I'm the guy to give it to them right now. I'm emotionally unavailable. Until I find something that's so undeniable that I can't help myself. The females, they'll always be there. Like honestly, bro, oh my God. Female-wise now? I ain't got to do too much work. And it's weird, because I'm the same guy. I haven't f*cking changed, right? I haven't done anything different…Okay maybe a blockbuster film."
For more from Michael, visit GQ.com. Also pictured below: GQ October's other cover stars Rob Lowe and Ryan Reynolds.
Like Just Jared Jr. on FB