Mon, 28 September 2015 at 3:40 pm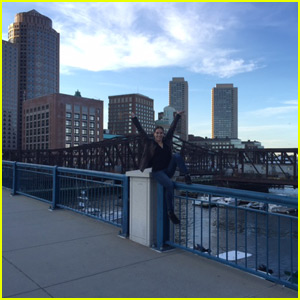 Every week, professional dancer Allison Holker will be penning a blog for JustJaredJr.com and sharing exclusive behind-the-scenes photos ahead of the Monday night episode of Dancing With the Stars.
Check out her week 3 blog here:
"Life on the road, traveling with Andy [Grammer], has been a blast. For this last week, we were in Pennsylvania and Boston and this week, North Carolina. We are there for really short periods, but I always try to make the most of our stay."
"In Pennsylvania, I sat outside and took in the beauty — just relaxed and had a moment to breathe myself. Our rehearsal space was a little different. We only had time for a two-hour rehearsal and in that time we were interrupted by different six-legged creatures who scared the living bejeezus out of me. And I shrieked for my life, then, of course, that was followed by a power outage. Talk about crazy timing!"
Click inside to read the rest of Allison Holker's week three DWTS blog…
"It seemed as though we were never gonna make it thru our rehearsal, but, of course we made it work. Then we rushed right off to beautiful Boston. In Boston, I stayed at the Envoy Hotel, which is just perfect, and I took a walk outside — looking over the bridges and down seaport, which was so refreshing and really helped me stay focused. For North Carolina, well, we got right to work: flight, eat, work and well, of course, more flight and sleep.
Now we are back in LA getting ready for tonight's show. Life on the road can be hard but it also can be inspiring. Seeing new places and meeting new people, that is what really is making this season so unique and special for me and Andy."
- Allison
Like Just Jared Jr. on FB