Thu, 01 October 2015 at 9:00 am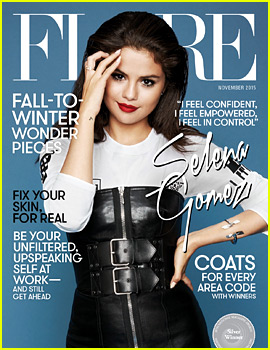 Selena Gomez shows off her fabulous style in a leather dress on the cover of Flare magazine's November 2015 issue, provided exclusively to Just Jared Jr!
The 23-year-old entertainer chatted about dating, her love life, and more. Here's what she shared:
On dating and Tinder: "I would never go on Tinder! I think it would scare me. I go on dates. It's not that difficult—I'm a nice young lady [laughs]—but that's not my focus. I'm really stoked about being with myself right now."
On her roller coaster two years: "I've felt so much in the past two years, from being super in love and then dealing with things to getting older and all these beautiful experiences that were complicated and exciting."
On Taylor Swift: "A bunch of women I look up to and admire are supporting one another, and Taylor has such a beautiful way of bringing people together. That was good for me, because the more I started working, the more uncomfortable I was. I wouldn't trust people, and Taylor has a way of stripping down everything and just getting down to being human. I love that."
On her faith: "I respect all religions and I encourage people to have a higher power, however they feel it, because it is beautiful to have a relationship, in my case with the Lord. So I've always been open about that…I have compassion, I have forgiveness, I have understanding, and this is my life—this is how I choose to live it. I've never been disappointed in the choices I've made, which I'm proud of."
The full story is available at FLARE.com and will be on Next Issue on October 1 and on newsstands on October 12. See more exclusive photos of Selena Gomez below….
Like Just Jared Jr. on FB