Thu, 15 October 2015 at 11:00 am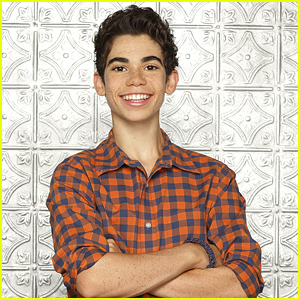 We're just one day away from saying goodbye to Jessie forever.
JJJ's enlisted the cast to write their fans and characters goodbye letters before it all ends and so far, Skai Jackson, Karan Brar and Kevin Chamberlin have brought us to tears.
But Cameron Boyce — Cameron's will make you smile. Read it below:
"Wow, where has the time gone? How does 4 seasons and 101 episodes (a quarter of my life) fly by that quickly? For all of the people involved in the greatest job an 11 year old me could ask for:
Luke,
You little scamp… I'm going to miss your infectious spirit. I'll miss your witty and crude comebacks too. Who knows, maybe one day I'll even miss your flatulence… You allowed me to do what I love with the people it didn't take me long to fall in love with. You were passionate and driven. One day you will catch a home run in Yankee Stadium. One day you will find your biological mother. Even though it hasn't happened in four years I have the utmost confidence that one day you will win over Jessie. You will always hold a special place in my heart. After living in your shoes for so long there will always be a bit of you in me. I'm glad the fans enjoyed you, I did too. I'll miss you, your siblings, your butler, and your nanny. Try to be good.
P.S. It's spelled "summer school."
Crew,
You guys already know how highly I think of you. Not only were you great at your trained profession but somehow you managed to come together and raise 4 pubescent teenagers… I couldn't ask for a better "village." You are brilliant, all of you. You kept me humble. I've been so fortunate to receive an infinite amount of knowledge from you. Thanks for the love, the hugs, the laughs, the cries, the memories.
Cast,
My on screen family turned real life family. This is when the tears start to well. We rode that roller coaster together. The most thrilling, exciting, unpredictable, dangerous, scary, adrenaline pumping roller coaster. It had fire, loops, twists, turns and lap belts. But we made it didn't we. You guys are never far from my thoughts. I learned from each and every one of you and I'm so grateful that I have life long friends that I know I can go to at any time. I love you all. Can't wait for our ten year reunion at Kev's house.
Fans,
You guys have seen it ALL. No eyebrows, no pants, no hair. If we did our job right we made you laugh, think and maybe even cry. You guys are the reason we're able to do what we love to do. Thanks for believing in us and watching our story unfold.
Also a special thanks to Disney for this life changing opportunity! I'm so grateful for the past five years and I'm so glad that even though 3 of the main 6 cast members from Jessie, including me, are doing other things, you kept the Ross kids story going. Watch Bunk'd on Disney Channel, Gamers Guide on Disney XD, go see Kevin on Broadway, and catch Debby in concert! We're still taking over!"
Stay tuned for more Jessie posts on JJJ!
Like Just Jared Jr. on FB