Thu, 15 October 2015 at 2:30 pm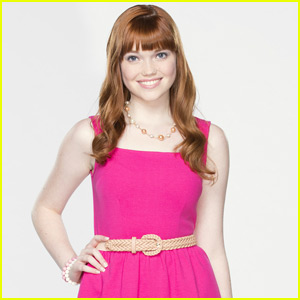 Check out this brand new interview with the super talented Kennedy Slocum!
The young actress stars on Nickelodeon's new show WITS Academy, which is a school for young witches and wizards in training, where Guardians are assigned to help develop student's magical powers and get them ready for graduation.
Kennedy stars as Ruby, a 16-year old who beneath her candy-coated facade is a ruthless manipulator. She will go to any length to get what she wants, and what she wants is magic powers- she's the only powerless witch in her entire family.
WITS Academy airs every weeknight @ 7PM on Nick!
JustJaredJr.com: Congrats on the show! How was the premiere week for you?!
Kennedy Slocum: It's a little surreal to see it all. Especially with the format of the show being daily instead of weekly, I'm seeing three months of work go by in only one month. It's exciting to see it all put together with the magic, but it's also terrifying to know that the season finale is only three weeks away.
JJJ: You filmed in Miami right? What was that like?
KS: I loved filming in Miami! Although the heat wasn't necessarily ideal, the location we had for shooting the outdoor scenes was beautiful. I also loved the people there and being introduced to new cultures. Cuban coffee is my new obsession.
Click inside to read the rest of our interview with Kennedy Slocum…
JustJaredJr.com Interview – Kennedy Slocum
JJJ: For readers who haven't seen the show yet, what is WITS Academy about?
KS: WITs Academy is about Andi, Emma's best friend, attending a school in the magic realm to become the first ever human guardian. However, in order to graduate, she, along with the other wannabe guardians, have to take care of two W.I.T.s (witch/ wizard in training) each. Andi has to adjust to this, while also trying to avoid Ruby's death stare. Andi's confidence and strength is tested in many ways with the relationships she makes and challenges she faces throughout the season.
JJJ: Ruby is the only one in her family without magical powers, is there something the rest of your family can do that you can't? Like snap or whistle?
KS: My entire family can sit through a clay-mation movie, and I can't. I have this weird phobia of clay-mation. Something about the way they move, where it doesn't quite look right, or their eyes…. I can't handle it.
JJJ: If you could have a magical power, what would it be?
KS: Invisibility, for sure. Imagine the elaborate pranks! Also, I'm quite the clutz, so if I'm in the middle of trying to scare or prank someone and I trip over myself in the process, no one will ever know!
JJJ: Did you watch a lot of witch-y type movies or TV shows to get ready for the series? If so, which was your favorite?
KS: I definitely watched a lot of Every Witch Way, because there are so many similarities and easter egg references to the show in WITs Academy. I also watched The Good Witch on Hallmark with Bailee Madison. I just think Bailee is a ray of sunshine.
JJJ: What can we expect this season?
KS: There is a TON in store for this season, with a lot of twists and unexpected magical obstacles. Andi will have a lot on her plate. With Ruby specifically, we'll have to see what happens… but neither of those girls are going to go down without a fight.
Like Just Jared Jr. on FB