Sun, 18 October 2015 at 8:30 pm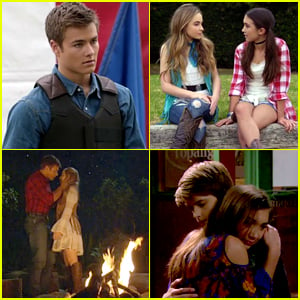 WARNING: SPOILERS AHEAD – DO NOT READ AHEAD IF YOU DON'T WANT TO BE SPOILED!
Girl Meets World's "Girl Meets Texas" weekend just wrapped up and it's left JJJ so torn and brokenhearted and just wanting to hand out hugs to everyone.
Starting on Friday, the gang headed to Lucas' (Peyton Meyer) hometown of Austin, Texas after signing him up to ride Tombstone the Bull in a local rodeo — and it's there that everything, and we mean everything, changed. Here's what happened:

Maya (Sabrina Carpenter) found her "He-hurr" twin in Cleavus, who was also a rodeo clown.
After arriving at the rodeo and seeing what an actual bull could do to Lucas, Maya told him she wouldn't ever talk to him again if he rode. He rode the bull anyway with encouragement from Riley, Farkle and Zay
Lucas breaks the record, riding Tombstone for 4.4 seconds (nice!) and after congratulating him, Riley looks over to Maya watching from far away and realizes that Maya couldn't watch because she liked Lucas as more than just a friend.
After going home, Riley takes it upon herself to declare her and Lucas like 'brother and sister'. Something he doesn't seem to agree with.
Later on in the night, the gang heads to a saloon restaurant to celebrate, where Farkle discovers the joy of barbecue.
There, Zay runs into his old flame, Vanessa. Maya and Riley jump to Zay's side pretending to be his girlfriends to make Vanessa jealous.
Riley pulls Lucas to the dance floor for a bit of line dancing before a performance from Maddie & Tae
UPDATE: Are you Team Rucas or Team Lucaya? Vote in our poll here!
Click inside to read more about what happened on "Girl Meets Texas"…
After eating, the gang set up a campfire thanks to Pappy Joe, where it's mostly awkward silence until Zay is stolen away by Vanessa for ice cream and Riley follows them with Farkle. But before she goes, she assures Maya that whatever happens, she will be her friend
Now that Lucas and Maya are alone, he questions her about how she feels for him, and after a bit of good teasing, Lucas stops her and they almost kiss.
After returning to New York City, Maya tries to tell Riley what happened between her and Lucas, but she doesn't want to hear any of it. Enter Charlie, the guy who sort of took Riley to homecoming. He heard that she and Lucas decided to just be friends and wants to see if she's free.
During their lesson with Cory, Riley gets a note from Charlie asking her on a date. At the same time, Maya blurts out that something happened between her and Lucas and she needs to tell her (again). Riley answer Charlie's ask with a yes.
Cory recruits Farkle to get him up to speed on what's going on in the lives of Maya and Riley and the entire triangle. Farkle does some work and watches as Riley plans her date with Charlie — no bowling, or talking, just a movie.
At the Matthews' place, Auggie has summoned Lucas to talk about this "brother and sister" relationship between him and Riley. He makes it clear that he is her

only

brother.
At Topanga's, Maya and Lucas are on what looks like a "date" and it looks a lot like his and Riley's first date. No talking. No nothing. Just smoothies. Zay, however, is in the background watching, because he's actually all of us.
Riley meets Charlie at the shop for their date and Lucas puts his two cents in about a movie not being a good first date and how he's not doing a 'brother and sister' relationship with Riley.
Farkle realizes everything that's going on and after talking with Zay, they both realize that this triangle is more than meets the eye.
Riley drags Farkle out of the shop before he could say anything to Maya or Lucas about how she still likes Lucas. Enter a little clip show of adorable Rucas moments and even more hinting Lucaya moments. Riley wants Maya to be happy and is stepping back for her happiness, even though it's breaking her. Farkle offers his shoulder before Riley goes to the movies with Charlie
Back at the bay window, Maya and Riley talk about their dates with Lucas and Charlie and both of them have no idea how they went. But, they still have their friendship rings. Ring Power.

Maddie & Tae "No Place Like You" | Girl Meets World
Like Just Jared Jr. on FB