Wed, 28 October 2015 at 1:30 pm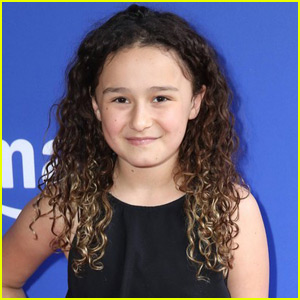 Check out this fun new interview with Peanuts Movie star Rebecca Bloom!
The talented young actress lends her voice to the film, which follows Charlie Brown, the world's most beloved underdog, as he embarks upon an epic and heroic quest, while his best pal, the lovable beagle Snoopy, takes to the skies to pursue his arch-nemesis, the Red Baron.
Mark your calendar – it hits theaters on November 6!
JustJaredJr.com: Tell us about your audition process for The Peanuts Movie!
Rebecca Bloom: I was told that I was up for the role of Marcie. I made five scratch test audition tapes and then after almost a year I was give the great news that I was actually cast. However, I had to keep it a secret the whole time.
JJJ: Did you try out any different voices between settling on the one you did?
RB: I just used my natural voice. Hopefully fans like it. I did not change the vocal quality only my attitude about Marcie. Marcie is a lovable bookworm.
Click inside to read the rest of our interview with Rebecca Bloom…
JustJaredJr.com Interview – Rebecca Bloom
JJJ: What's your favorite thing about Marcie?
RB: She chooses to see the best in people especially in Charlie Brown.
JJJ: Was it hard portraying her?
RB: I had to imagine being bad at sports, being a bit more shy, and more into books. Something I am not.
JJJ: We hear you are a big fan of animals. Which animals are your favorites and why?
RB: I love my dog and two cats. My cats are rescue animals. I am also a big advocate for the protection of Orcas and other aquatic animals. After seeing the film, Big Fish, my views were changed.
JJJ: Is it hard balancing work and school?
RB: It takes coordinating and time management. Making sure I check in with my set teacher and regular teacher regularly.
JJJ: What advice can you give to young aspiring actors like yourself?
RB: It is important to study acting as much as you can.
JJJ: Do you have a favorite subject in school? Why one? And why?
RB: I like Math and Social Studies.
JJJ: Do you play any sports?
RB: I like to play basketball at school and I love to dance. I take dance classes as well.
JJJ: What do you like to do when you have a day off?
RB: I like to go to dance class, shopping with my friends, and travel with my family.
JJJ: Describe The Peanuts Movie in three words.
RB: Bigger, Better, 3D.
JJJ: Where can fans find you on social media?
RB: @Rebeccabloom12
Like Just Jared Jr. on FB