Thu, 05 November 2015 at 10:00 pm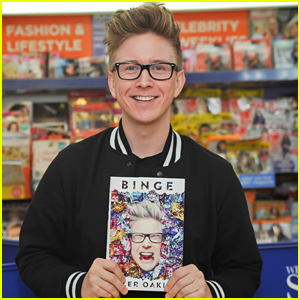 Tyler Oakley wraps up his "Binge" book tour with a signing event at WHSmith in Birmingham, England on Monday afternoon (November 2).
The 26-year-old YouTube personality recently spoke with HuffPo about the book of essays, which is out now.
"I genuinely think every chapter [fans will be surprised]. To me, I wanted to make sure this is worth it for super fans. I don't want it to be, 'Oh, they already know the story already' or 'Oh, they already know about this person.' I wanted it to be fresh new content, which is kind of difficult because like you know, I've been making videos for however long. It was like, what's left?" Tyler shared.
He added, "A lot of what made it into the book was these incredible stories that I've been dying to share, whether it's about my personal life or embarrassing things or relationships or about my family or my friends or I guess the best of the worst moments of my life. I've been waiting to share them with people and now I finally have a place to kind of dive deep into them and be unapologetically honest."
Like Just Jared Jr. on FB