Tue, 10 November 2015 at 3:00 pm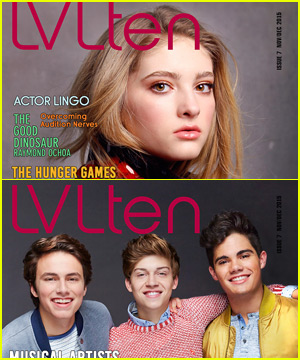 Willow Shields looks stunning on the November/December 2015 cover of LVLten magazine, given exclusively to JustJaredJr.com!
The 15-year-old Mockingjay star appears on the first ever dual cover with Forever in Your Mind. Here's what they had to share with the mag:
Willow on Jennifer Lawrence trying to make her laugh in scenes: "Yeah, she does that all the time. I think Jen and Josh have decided that their sole purpose on set is to try getting other people to laugh when they are on camera doing their scenes. So when I am on camera in a serious scene, Jen would be behind the camera making just the weirdest faces at me in the entire world. It's just what she does. She doesn't want you to be good in the scene (Laughs)…she just wants you to fail."
FIYM's Emery on their favorite part of being in a band together: "It's fun being in a band because one, it's with your best friends. Two, you have this dream and your dream is doing something amazing and it's even better doing it with the people you love.
FIYM's Ricky on the best advice he's ever gotten related to music: "For me, the best music advice that I've ever gotten is to stay true to who you are. It's going to be very confusing if you're always changing your image all the time."
For more on Willow and FIYM, visit LVLtenmag.com.
Like Just Jared Jr. on FB