Fri, 13 November 2015 at 11:00 pm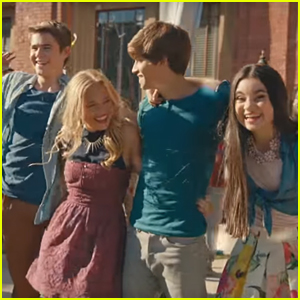 The stars of Best Friends Whenever have a fun time in their new music video for "Making Today a Perfect Day", from Frozen Fever.
Lauren Taylor, Landry Bender, Gus Kamp and Ricky Garcia danced around in the sunshine, having a good time while singing the cool track.
JJJ caught up with Lauren, Landry, Gus and Ricky and they exclusively told us what their idea of perfect day would be. Check out their answers below:
Lauren: "My idea of a perfect day is going to the beach and surfing with all of my friends and then having a bonfire at night and roasting marshmallows. That sounds amazing."
Landry: "My perfect day would start by sleeping in!!! The days when there is no school or work so I don't have to set the alarm and can just snooze away are the best! From there, it's off to brunch and maybe some shopping. At night I would probably watch a little Netflix or play guitar. Mostly, I just want to laugh, relax and be surrounded by the people I love."
Gus: "Relaxing and playing video games with my friends and eating good food. I would just take it easy and it would just be a nice way to spend my time. Throw in some sushi and maybe a good salad, and that's my perfect day."
Ricky: "My ideal perfect day is staying home and watching movies and playing video games all day with my band members and best friends, Liam and Emery."
Watch the vid below!

"Making Today A Perfect Day" Music Video | Best Friends Whenever
Like Just Jared Jr. on FB