Fri, 20 November 2015 at 9:30 pm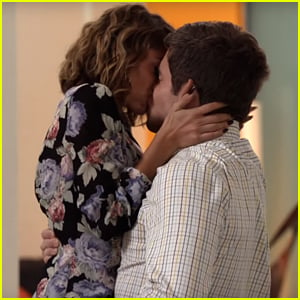 THE BEST KISS EVER HAPPENED ON MODERN FAMILY THIS WEEK!
Haley (Sarah Hyland) actually jumped into Andy's (Adam Devine) arms this week on Modern Family and gave him a kiss that we've all been dreaming would happen.
Here's what went down between the two:
Haley sneaks into one of the houses dad Phil has listed on the market, to enjoy a nice long bath after Thanksgiving, and to cheer herself up about her love life.
Andy shows up a bit later, after Haley's back at the house and cleaning up her mess — the bathwater failed to drain and she burned too much incense. When he tries to help her out, they end up falling into the tub and getting soaked.
They clean up more, before Phil gets to the home, and accidentally open up the liquor cabinet, turning on the disco lights, and getting a fireplace going. You can operate the entire house by remote! It's then that Haley starts to lean in for a kiss, but, Mitch and Cam come in to try the house out for themselves
Later on, after getting dry and cleaning all their mess up they chat about the earlier romantic moment that got nixed. Haley uses the house as an excuse, because that's actually a good reason. A house should never be operated by a remote.
But just as soon as Haley exits, she runs right back in and jumps into his arms for a passionate kiss.
Watch the scene below!

Modern Family – Haley and Andy's Passionate Kiss
Like Just Jared Jr. on FB