Tue, 08 December 2015 at 1:40 pm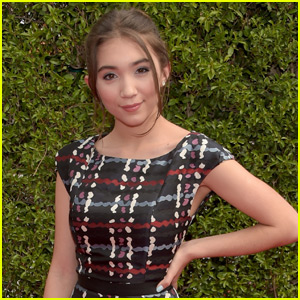 When JJJ found out we were chatting with Rowan Blanchard, we decided no topic was off limits.
The 14-year-old Girl Meets World actress is one of today's brightest and most eloquent stars, often shining light on topics otherwise avoided by young people who may be afraid to speak their minds.
Rowan shares her informed opinions with bravery and compassion, which not only inspires us, but makes us think more about our own views on things like feminism and racism.
One of the first questions we asked (don't worry, we covered more light-hearted stuff like fashion and GMW too), was her thoughts on the current buzz phrase – "squads goals."
"Of course female friendship is a beautiful thing. It's insanely powerful," Rowan told JJJ. "Sisterhood is something so valid and important when you are growing up that I literally think the essence of it should be taught in schools. But, the 'squads' we see in the media are very polarizing. Feminism and friendship are supposed to be inclusive, and most of these 'squads' are strictly exclusive."
She continued, "It makes feminism look very one dimensional. Feminism is so multilayered and complex that it can be frustrating when the media and the celebrities involved in it make feminism and "squads" feel like this very happy, exclusive, perfect thing. There's so much more than that. 'Squad goals' can polarize anyone who is not white, thin, tall and always happy. "
Click inside to read the rest of our interview with Rowan Blanchard…
JustJaredJr.com Interview – Rowan Blanchard
JusJaredJr.com: Girl Meets World just got picked up for season three! Did you do anything to celebrate the news?
Rowan Blanchard: When I officially found out, we kind of had already known. But it's still nice when you hear the official word!
JJJ: We love Riley and Maya's friendship so much. Do you ever have conversations with the writers about things you or your friends are going through? Or have convos with Sabrina about how to handle the scenes and conflict? They are so realistic!
RB: I don't think I ever have specific conversations with the writers. I think they just know and respect teenagers and have a unique understanding of what they got through. Our goal was always to write real-life and I am proud to say that we do.
JJJ: Riley recently put her feelings for Lucas aside to give him and Maya a shot. What's the best way to approach a scenario like this in real life where you like the same guy as your friend? Is there a "best way"?
RB: I don't think there is a best way. I am definitely not the person to ask for this. But I think just follow your heart and know that in the end, having a sisterhood is just as sacred, if not more, than any romantic relationship.
JJJ: We are always in awe of your fashion choices (whether red carpet or casual). What are some go-to staples that girls can keep in their closets?
RB: Thank you, that's so kind! Fashion is all about creativity to me. I remember it being one of the first things that I was fascinated and inspired by. I think a good denim jacket is a staple that I wear every day.
JJJ: We love reading any and everything you write. Have you ever thought about creating a blog or writing on a regular basis?
RB: Thank you! I do write on a regular basis, I just don't publish all of it. I think it's vital to keep a diary, and have a place to write your thoughts. I do, however, have a lot of work that I do want to publish and work that is getting published. So I'm very excited about that.
JJJ: Speaking of that, you're also a talented singer! Please tell us you're open to doing an album at some point…
RB: That's very nice, thank you. I don't think at this point I would really I want to do that. I don't know what my future brings, but I don't see that anytime soon. I do want to be on Broadway at some point. But right now, I just really love what I'm doing.
JJJ: Please tell us your secret to balancing school, work, family, and having fun! Or perhaps any advice you may have for anyone feeling overwhelmed?
RB: Oh my goodness, I barely balance it! But if I have a rule, it's to prioritize myself and my well being first. I think it's essential to learn how to be by yourself and be all that you need.
JJJ: With that said, you have a very busy schedule. What are some things you do for fun?
RB: I write. I take pictures of myself and of things that inspire me. I love to draw and dance and read and watch film. Movies are my favorite thing in the world. And I also love to play Mario Kart 7 on the New Nintendo 3DS XL!
JJJ: We saw you recently were at Nintendo's Winter Wonderland. What other holiday plans do you have coming up?
RB: That was so much fun. I think I'm going to see a holiday ballet. I just want to bake a lot of cookies and sing Christmas songs and watch Elf a lot.
- Reporting by Sharon Tharp (@sharontharp)
Like Just Jared Jr. on FB