Mon, 14 December 2015 at 12:30 am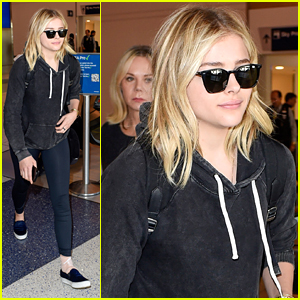 Chloe Moretz has her sprain ankle wrapped up while arriving at LAX airport in Los Angeles on Saturday (December 12).
The 18-year-old actress just returned from NYC where she attended Z100′s Jingle Ball the night before.
In a new column for Wall Street Journal, Chloe opened up about her biggest fears. Read what she wrote below:
"I've had the amazing opportunity to work consistently since I was 12 years old. I haven't taken more than a month off from work. It's been really humbling. But all of that comes with fame, and fame is terrifying. It's terrifying to think that when you walk down the street people will know you, know what you like to eat in the morning—or, at least, they think they know you. And then, of course, there's fear of the paparazzi.
"You lose your anonymity. But it all goes hand in hand with fame. It's why people buy tickets to the movies. But if you're not careful, it can take a hold of you. What scares me even more, though, is the idea that one day this might be something I won't love, to think that there could be a time that this no longer makes me happy—because, as of now, this is the biggest love of my life. I don't ever want to get to that spot."
Like Just Jared Jr. on FB