Mon, 14 December 2015 at 5:20 pm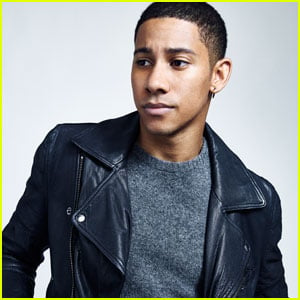 Check out this brand new interview with the latest Flash star – Keiynan Lonsdale!
The 23-year-old Nigerian-Australian actor plays Wally West, the long lost son of Joe (Jesse L. Martin) and brother of Iris (Candice Patton), who made his debut during the midseason finale.
JJJ caught up with Keiynan after the episode to get the scoop on what we can expect to come!
(Fun tidbit: In the DC comics, Wally was actually Iris' nephew and later became Kid Flash!)
The Flash returns on Tuesday, January 19 @ 8PM on The CW!
JustJaredJr.com: What was your audition process like? How much research did you do on the comic book character?
Keiynan Lonsdale: It was strange because, to my knowledge, I was the only dude they were seeing…It spanned over a few months so I'm not sure if that was the case throughout the whole time, but yeah, it's an interesting kind of pressure I can tell you that. I did a reasonable amount of research, I knew that he would likely be a combination of the different Wallys we've seen throughout the comics, so I kept and still keep that in mind.
Click inside to read the rest of our interview with Keiynan Lonsdale…
JustJaredJr.com Interview – Keiynan Lonsdale
JJJ: What was is like coming into the most successful show on the network two seasons in? Did you get to bond with the cast at all?
KL: Majority of my scenes so far have been with Joe and Iris, so I've gotten to know both the actors Jesse and Candice pretty well. They are GREAT people, I love spending time with them on and off screen. Coming on to any show second season in is always a challenge, but it's been fun slowly getting to know the dynamic of everything each week. I've been made to feel extremely welcome by the cast and the awesome crew.
JJJ: Your first scene is a pretty heavy one. Did you do anything extra to prepare?
KL: I guess I drew from my own experience, I remember meeting my dad when I was about 10 and feeling a million different emotions…I can imagine that as a young adult Wally would be just as confused. So, I put myself in my own shoes, ha!
JJJ: What can you tell us about Iris and Wally's brother-sister dynamic?
KL: I find it funny because it feels more like the sibling relationship you have with your brother or sister when you're both much younger, almost trying to get each other into trouble and constantly sizing each other up. I think they frustrate one another because they're both strong minded.
JJJ: Is Joe going to try to make up for lost time or will we see a disconnect between him and Wally?
KL: Joe being Joe will definitely try to be the best father he can, so even that can create a disconnect. This isn't an easy transition, for anyone involved.
JJJ: We already see some differences with Wally in the show vs in the comic book. But the potential to become Kid Flash has to be pretty exciting. Are you hoping they go that route?
KL: Yeeeeeees! I'd be crazy if I said otherwise! I'm sure that's where we'll go with it, we have to. If it doesn't happen soon, I will casually make my own suit and casually wear it on set to make everyone speed up the process.
JJJ: How would you describe Wally in three words?
KL: Quick. Layered. Fun.
JJJ: Favorite moment from the set so far?
KL: There's a scene in episode 10 that I have with Jesse L. Martin, and it's been my favorite to shoot so far. He makes it so easy to deliver a real performance because he's so giving as an actor. I hope the audience enjoys it too.
Follow him on Twitter @keiynanlonsdale!
Like Just Jared Jr. on FB