Thu, 31 December 2015 at 7:30 pm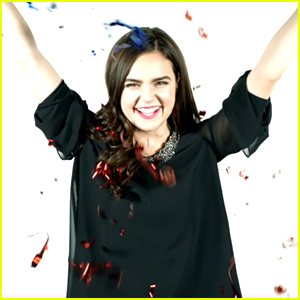 Bailee Madison tosses the confetti before it's even 2016 and her 2015 video recap is why.
"Heading into the New Year I found myself reflecting back on 2015. The memories that were created, the people who surrounded me, the ups, the downs and the laughter and smiles to last a lifetime. 2015 was a year of change and growing up for me, both personally and work related. I couldn't be happier to continue growing in 2016 and am so looking forward to doing it with all of YOU," the 16-year-old actress wrote along with the recap video.
Bailee continued, "In this video you will see highlights from this year, from my trips to the White House, the BBMA's, filming some of the new projects that will be coming out in the New Year, #AMAs , NorthPole Open for Christmas, pictures of my friends who I love dearly, videos with some of YOU, Alex's Lemonade Stand and hospital visits, but most importantly you will get to see pictures of my family. Who is my rock and the brightest light in my days and nights. Without their love, wisdom, advice, faith and support I wouldn't be me and I wouldn't have the chance at this beautiful life.
"There are so many people who inspired me this year, too many to fit in a 6 minute video. But to those people, you know who you are, my deepest and most sincere thank you's for being a part of my life. Thank to God for the blessings you continue to sprinkle over on me and my family. We praise you and we thank you."
She added, "To all of you: Thank you for never leaving my side, I'm looking so forward to what 2016 brings for ALL of us. I'm wishing you love, light, and endless possibilities in 2016. You have my heart always, and I will see you in the New Year!"

#BMads2015Recap
Like Just Jared Jr. on FB