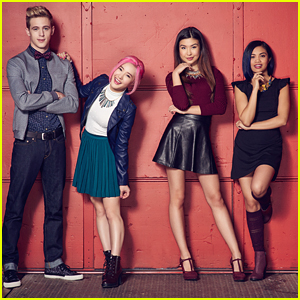 Tonight's the night!
Make It Pop returns to Nickelodeon with their second season and JJJ can hardly wait to watch what happens in the premiere episode, "Think".
"Think" will pick up right where we left off — where Sun Hi (Megan Lee) is holding auditions for a new band. Meanwhile, Jodi (Louriza Tronco) competes against Alex for an internship in the fashion industry and Corki (Erika Tham) creates a robot for Think Fest.
JJJ had the exclusive opportunity to chat with the cast of the series and found out all about what's in store in the upcoming season, dream co-stars, the new year and more. Check it:
JJJ: Season two is almost here. How excited are all of you?
Megan Lee: I'm SUPER excited for the premiere of season two and I think I can say that for all of us. I can't wait for the fans to see what's in store for Sun Hi, Jodi, Corki and Caleb.
Erika Tham: I'm so excited!! Everyone put so much love and hard work into this season and I think it really translates when you watch the show. This season is way more heightened than season one; the stakes are higher, the relationships built in season one are tested and the overall excitement and energy is taken up a notch!
JJJ: Has your character changed a lot for season two? How do you think the fans will react?
Louriza Tronco: I'm definitely excited for Jodi's character arc this season. My character definitely has the same foundation as season one but I think fans will enjoy coming along the journey as Jodi finds herself as an independent young lady.
JJJ: What are you looking most forward to the fans seeing in the new season?
Dale Whibley: I think the fans are going to love all the new music, dances and how each individual character develops throughout the season.
(Click inside for more of our exclusive interview with the Make It Pop cast…)
JJJ: Have any of your characters changed a lot? How do you think the fans will react to them now?
DB: Other than the aesthetics of each of our characters we are still Caleb, Jodi, Sun Hi, and Corki.
ML: I think my character Sun Hi has definitely changed a bit emotionally this season. She learns to sacrifice more for others this season and becomes a bit more relatable.
ET: Yes, I think Corki has changed quite a bit from season one. Last season she was very naive and out of her element but this season, after spending a semester at MacKendrick, she has come into her own a little more. I think Corki has become sassier this season. She isn't afraid of the "popular" girls anymore and spends less time trying to impress Jared; HE is the one trying to win HER over this season!
JJJ: For season two and beyond, are there any actors you would love to see guest star on the show? In what kind of role?
DB: I think it would be cool to have Josh Peck guest star in Make it Pop, I think he's an extremely funny guy.
LT: I would love to have Bruno Mars on the show. He's an amazing musician and It would be wicked if him and Jodi could be related!
ML: I would love to have Ken Jeong as a guest star on the show because I LOVE his series Dr.Ken. I think he would play an amazing role as Sun Hi's father!
ET: I'd love for Corki, Jodi and Sun Hi to adopt a puppy for season three hahaha! Does that count as an actor? I'd also love to see Corki become a little bit more rebellious, maybe a new character could bring that out in her in a following season.
JJJ: As XO-IQ, you just dropped a new album. How exciting was it to record that? Do you have a favorite song from the album?
DB: It was so amazing bringing the new music to season two, it's a hard to choose my favorite song from the album but I'd have to say Walk That Walk and Where Our Hearts Go are at the top of the list.
LT: We had a lot of fun putting Tomorrow Is Ours together. It has a lot of great music- a little bit more sophisticated and a nice range of different genres. I love the song "We Doin' It and "Situation Wild"
ML: Recording is always a crazy and fun rollercoaster for us as XO-IQ because we don't have much time to record all these songs. My favorite song, besides the ones I wrote (because I don't want to be biased) has to be Where our Hearts Go.
ET: It's so cool! I love being in the recording studio and working to create a product. It's so awesome that we get to share the fun with our fans,too! I love "We Doin It"! It's one of my favorites from season two.
JJJ: You're the one that brought the band together. How does Caleb feel about this? Does he want them back together?
DB: Of course Caleb is concerned with the bands separation at the end of season one and he would love to see the band get back together, there is just a few things preventing this from happening.
JJJ: You're the awesome DJ in the show. Are you a fan in real life? What artists are your favorites?
DB: Yes, I am a huge fan of EDM music, some of my favorite DJ's/Producers would have to be Zomboy, Skrillex, and Flux Pavilion
JJJ: What about Jodi and Caleb's relationship? Where does it head in season two?
DB: Jodi and Caleb's relationship takes some twists and turns in season two and each of us definitely learn more about ourselves and each other.
JJJ: What are you looking most forward to the fans seeing in the new season?
LT: The fashion, new music, new looks and the new cast members.
JJJ: Jodi is struggling between fashion and music. Hopefully you don't have to choose between the two — do you?!
LT: Well, season two picks up right where we left off from season one… and when season one ended- Jodi quit the band to do the internship. I guess you'll have to tune in to find out what happens next!!!
JJJ: Are you personally into fashion as much as Jodi is?
LT: Jodi has opened my eyes to the fashion world! I definitely pay more attention to the wardrobe on different TV shows and movies. I've also been following more fashion blogs on my Instagram- it's so much fun!
JJJ: Has there been a favorite look of Jodi's on screen that you'd love to steal for your own closet?
LT: Yes! I was lucky enough to keep it! I love her green jacket and red printed pants look with the long sleeve white blouse. Very urban!
JJJ: There is a lot going on in season two for Jodi, as she juggles everything. Do you think she'll survive it?
LT: Jodi's definitely a strong girl…but there's a lot of drama this season for her, I guess you'll have to see!
JJJ: What are you looking most forward to the fans seeing in the new season?
ML: First of all we all have new looks, like my pink hair. We have a whole new batch of 23 songs, and I got to write three of them! This season, we have some new characters and relationships to introduce, so I'm super excited to see how the fans will react!
JJJ: In season two, we see that she's clashing a lot with Linc. What ticks her off about him, or is this a love match just waiting to happen?
ML: Linc is a super talented rock star and is basically a male version of a Sun Hi, and what ticks her off about him is that she has to do whatever it takes to "one-up" him. The relationship is a rollercoaster and it was so much fun doing scenes with Vinson Tran, who plays Linc! You will have to watch season 2 to see what happens! ;)
JJJ: Do you think there's anyway around not clashing with Linc?
ML: There really isn't any way around not clashing with him but when Sun Hi or Linc finally tries to give in, things work out for the best.
JJJ: Are you rooting for the band to get back together or is a solo career what Sun Hi is destined for?
ML: I personally root for the band to get back together because all four characters really complement each other so well emotionally and musically.
JJJ: Sun Hi's known for her funky style. Is your style anything like hers?
ML: Truthfully, I don't dress anything like Sun Hi in real life but I do enjoy being her on set! There are definitely many times where I LOVE some of the items from her outfits because it's just so fun and cute!
JJJ: What are you looking most forward to the fans seeing in the new season?
ET: I'm really looking forward to fans seeing the new music! The music videos this year were so incredible to shoot; there were new sets and exciting filming techniques that we hadn't used last season. Plus I love the songs we have from season two.
JJJ: You're almost gone from the school! How does Corki deal with this?
ET: I can't give too much away but fans should know that the stakes are a lot higher for Corki this season and she is determined to stay at MacKendrick.
JJJ: Does this make even more drama for the band and your friends?
ET: Yes! There is plenty drama and chaos for all the characters this season! I think one of my favorite things about Make It Pop is the relationship between Corki, Jodi and Sun Hi. The girls are so different but still support each other completely. The girls never see each other as competition and recognize that they are more powerful when they work together which I think that that is a great message for girls to see. Their friendship is a strong one even when it's tested, which we'll see this season.
JJJ: Personally, what do you think Corki should do in this situation?
ET: I think Corki should express to her father how important being a part of XO-IQ is to her. She should also, however, work incredibly hard in school to show him that she is capable of balancing every talent of hers and expressing more than one does not hinder her talent in school. Corki is a very determined, intelligent and talented young lady and I'm sure she can do whatever she puts her mind to.
JJJ: Corki has a strict father/family life who wants her to "do well". Do you personally come from a strict family like? What is your real family like?
ET: My father is very supportive of me, but also very strict — similar to Corki's father. I think our relationship is similar to that of Corki and Mr. Chang's in that making my father proud is incredibly important to me. I have a lot of respect for my Father as Corki has for hers. Everyone on set is always joking that my Father and Mr. Chang are so similar and that Corki and I are so similar!
JJJ: What did you do for the holidays?
DB: I ate a lot of Christmas dinners and spent time with all of my family.
ET: My entire extended family flew to Malaysia for a family photoshoot! It was so nice getting to see and spend time with everyone! This years Christmas card should be great haha!
JJJ: What do you hope to accomplish in 2016?
DB: So far in 2016 I hope to learn parkour and release some of my music and hopefully shoot Make It Pop season 3???
ET: I want to continue to work and learn as much about the entertainment industry and acting as I can. I'm having so much fun working and doing what I love!
============================================
Make It Pop premieres TONIGHT @ 7PM ET on Nickelodeon. Stay tuned for an exclusive clip and pics from the episode!
Also – if you haven't already, enter the Make It Pop contest for your chance to win a trip to NYC!
Like Just Jared Jr. on FB