Fri, 05 February 2016 at 3:40 pm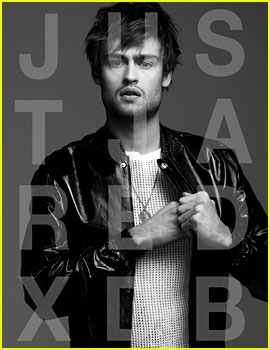 Douglas Booth is so hot in the cover image for Just Jared Spotlight's February 2016 feature!
The 23-year-old Pride and Prejudice and Zombies actor opened up about letting the girls save the guys in his new movie, the actors he looks up to, and his idea of an ideal date. Check it:
On getting to play the "damsel in distress" in Pride and Prejudice and Zombies: "Most of the stunts were left to the girls. It's the girls rescuing the guys mostly. So it was kind of really kick-ass, girl power. It was wonderful to watch. It was particularly sexy. They would come in and just slay in these choreographed pentagram of death fight scenes.… It was massively refreshing to see them slay in these extremely sexy period costumes."
On actors he looks up to: "I love Leonardo DiCaprio. He just makes really great films with great directors. He has great relationships with directors but also has a great social awareness. I think he balances his work with his responsibilities to his world, the environment, things like that very well. I'm very impressed by him and I admire him a lot. And other actors like Joaquin Phoenix, I just look at him and marvel at his unexpectedness, just his work really."
On his ideal date: "Dinner, but then a way in which you can do something together. I'd imagine a great date would be to go skiing. Imagine going skiing. Go ski with someone, if they can ski. Or even if they can't, I can teach them. Then ski down and have a really lovely lunch and then grab some drinks. Do something fun like that. Or go on a hike. I don't mind getting sweaty!"
On his weakness with a female: "If you play with my hair with your fingers. A head massage. Any kind of massage, I'll just become a puppy in your lap."
Visit JJSpotlight.com now for the full photo shoot and interview!
Like Just Jared Jr. on FB
Photos: Justin Campbell for Just Jared
Posted to:
Douglas Booth