Fri, 19 February 2016 at 6:40 pm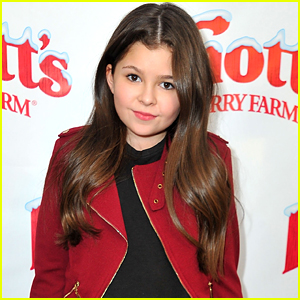 With Read Across America day just around the corner, JJJ had to speak to Addison Riecke, who loves books just as much as we do!
The 12-year-old The Thundermans' actress chatted with us about her fave books of the moment, working with Write Brain Gives and sassy Nora on the show. Check it:
JJJ: Tell us about Write Brain Gives and your work with the organization?
Addison Riecke: I have always loved to read and can't imagine a world without books and storytelling. When I learned about Write Brain Gives mission to empower young people with literacy building skills and a creative outlet, I knew I wanted to get involved. Write Brain Gives is the charitable arm of Write Brain Books, an organization focused on closing the achievement gap using self-expression and creative storytelling to underserved children. Write Brain Gives' mission is to provide the Write Brain Books "disguised learning" program to vulnerable children and youth across the United States with a focus on programs that support foster youth care.
Click inside for more of our interview with Addison Riecke…
JJJ: We've been hearing a lot about your happysnapps campaign. Can you explain to readers what it is?
AR:
I was heartbroken to hear that 61% of children of low-income families in Southern Los Angeles don't have access to books. That is why I have teamed up with Happy Snapps, a fundraising company, to raise $10,000 over a six-week period to benefit Write Brain Gives. The money raised will fund the Write Brain Gives experience within the Peace4Kids foster outreach program in Southern Los Angeles. To check out the campaign, please visit https://happysnapps.com/addison
JJJ: What are your top three book recommendations for 2016?
AR: There are several genres of books that I am into right now. My top three recommendations for 2016 would be: "So B. It" by Sarah Weeks, "The 5th Wave" by Rick Yancey, and "Gregor The Overlander" by Suzanne Collins.
JJJ: Okay, The Thundermans time! What is going on in the new season?
AR: With the addition of Chloe to the Thunderman family, Nora has taken on being a big sister to her. A lot of fun and mischief comes along with having a little sister, and Billy and Nora are helping her navigate through the craziness that comes with being a superhero. Nora is still sassy as ever and is a lot of fun to portray.
JJJ: Congrats on The Thundermans recent KCA nomination! What you're most excited for at this year's KCA's?
AR: This year will be the Thundermans 4th time attending the KCAs, 1st year to be nominated. It is probably one of my favorite nights of the year. Being nominated for a KCA is definitely the icing on the cake. I am so excited to see Blake Shelton, the host for this year's show. I am a big fan of The Voice. So make sure you go to nick.com/KCA and vote for The Thundermans for Favorite TV Show.
JJJ: You just turned 12! How did you celebrate?
AR: As an early birthday surprise, Thundermans production surprised me with a birthday cake and celebration during a live show. It was a memorable night spent with my Thundermans family, friends, and fans of the show. For my actual birthday, I was able to fly home to Louisiana and celebrate with my friends with a hippie themed party at our house.
Like Just Jared Jr. on FB