Tue, 01 March 2016 at 2:00 pm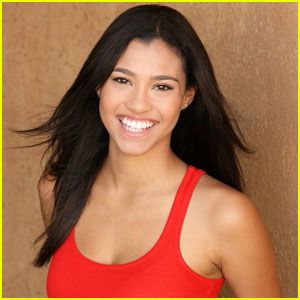 Let us introduce you to the gorgeous and talented Kara Royster!
In case you don't already know, the 22-year-old actress is currently starring on Pretty Little Liars as Toby's (Keegan Allen) girlfriend.
Yvonne is super smart and classy, and she's also the daughter of Veronica Hasting's (Lesley Fera) opponent for Senate.
You may also recognize Kara from Faking It, The Mentalist, and Scream Queens.
Here are 10 fun facts Kara told us about herself!
1. My first flight was at two weeks old, from Denver, Colorado to Palm Beach Gardens Florida where I grew up.
2. I am a strong believer you can't do anything to a potato that would make it anything other than delicious.
3. I am a dual citizen of U.S and Canada.
4. I am a mix of African American, Irish, and French Canadian.
5. I love everything anime! Sailor Moon, Pokemon and Hello Kitty are my favorites!
6. I am a Libra and even have the constellation tattooed on me.
7. I can solve a Rubik's cube in less than a minute.
8. I was a competitive mime in middle school.
9. I love baseball, my dad played in the Major Leagues for 16 years.
10. Traveling is my passion, I have been to about 10 countries and hope to add many more. Trying to make my way to Brazil!
Like Just Jared Jr. on FB