Wed, 02 March 2016 at 5:30 pm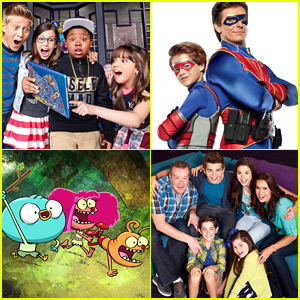 Get excited Game Shakers and The Thundermans fans — both shows have been renewed for new seasons on Nickelodeon!
Announced during the network's upfronts today (March 2), the shows, along with Henry Danger, and animated shows SpongeBob SquarePants, Harvey Beaks and Pig Goat Banana Cricket will be back for more episodes.
Here's what else is coming to the network:
– "Jagger Eaton's Mega Life," a 20-episode documentary series that follows the 15-year-old skateboarder of the title as he skates around the world and meets his idols. The show is will begin production this spring
– "Crashletes," a 20-episode viral sports clip series featuring guest personalities from the worlds of sports and entertainment, along with the funniest, craziest clips and user-generated content. New England Patriots Super Bowl XLIX Champion and Pro Bowl tight end Rob Gronkowski will host.
– "Albert", the network's first original animated telepic. It tells the story of a tiny Douglas fir tree named Albert who loves Christmas more than anyone, but whose miniature size keeps him from taking part. He travels across the country with his two best friends, a fun-loving palm tree and a rambunctious weed.
– "Lost in the West," a three-part original TV movie that follows two teenage step brothers, Chip and Dave, who get transported back in time to 1885 after one of them accidentally invents a time machine.
– "Hey Arnold!" (a two-part movie) and "Legends of the Hidden Temple" (big screen) revivals.
– "Ride," which follows the adventures of Katherine "Kit" Bridges who relocates to England when her father joins the faculty at Covington Academy, an elite equestrian boarding school.
– "The Other Kingdom" follows fairy Princess Astral who takes human form and enters the mortal world for 90 days.
– "The Loud House," (animated) about chaotic life in a huge household
– "Bunsen is a Beast," about the first beast to attend human grade school
– "Mysticons," a half-hour action series about four girls who transform into warriors and fight an evil queen
– "Welcome to the Wayne," which chronicles the adventures of two 10-year-old boys exploring their New York City apartment building
– "Pinky Malinky" a mockumentary series that depicts the everyday life of the title character, a hot dog living in a human world.
Like Just Jared Jr. on FB