Mon, 21 March 2016 at 9:30 am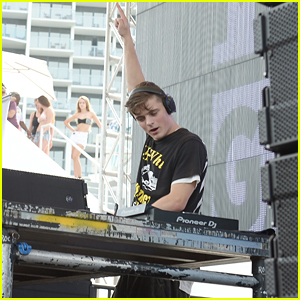 Martin Garrix blasts the music loud during the The SiriusXM Music Lounge at 1 Hotel South Beach ahead of the 2016 Ultra Music Festival earlier in the week in Miami, Fla.
The 19-year-old DJ played some tracks ahead of his big concert on Saturday night, where he teamed up with 7UP for the Music Lifts You Up event.
In a landmark outreach to the deaf community, Martin and 7UP created an immersive music experience for deaf people, working with experiential artists to create a unique music venue – one specifically tailored to an audience who cannot experience music in the way most of us consider essential to our existence.
"7UP and I tried to find every way possible to find a way for deaf people to experience music," Martin explains in the video. "Motion, vibration, visual…I stepped into this room and the fiber optics played a note when I stepped on it and I actually got scared (laughs)."
Martin added, "We're going to involve them in the show in a way they haven't been involved. It's going to be an experience tonight."
Check out the vid below!
Like Just Jared Jr. on FB