Wed, 30 March 2016 at 1:56 pm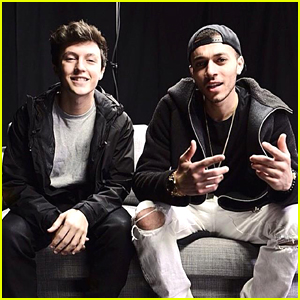 Sad news you guys — Kalin and Myles are going on a break.
The duo — Kalin White and Myles Parrish — made the announcement on their website this morning to their fans.
"2016 has begun with many changes in our world, one of which was parting ways with our record label. This new found independence has allowed us to take some time to reflect and decide how we would like to move forward in our careers," they wrote.
"After a lot of thought, we've decided to take a break from making music together to focus on individual aspirations. The past five years together as Kalin and Myles have been amazing. It has been incredible traveling around sharing our music and getting to meet so many of you. Getting to know you and grow up with you has been a privilege. Your support has allowed us to chase our dreams and we are forever grateful. We have grown a lot during this time and our hearts are now in different places.
"Although this will be the start of a new chapter, the one thing that will remain the same is our support for each other and all of you. We're excited about the future for all of us. Thank you for everything. We love y'all!"
WHAT DO YOU THINK about Kalin and Myles' break?
Like Just Jared Jr. on FB