Sun, 22 May 2016 at 9:30 am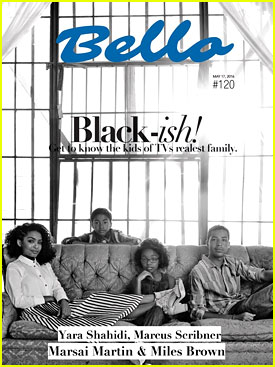 The kids of black-ish lounge on a sofa in their new feature for Bello mag.
Yara Shahidi, Marcus Scribner, Miles Brown and Marsai Martin, who play the Johnson kids on the hit ABC show, opened up about the series, their own interests and everything in between. Check it:
Yara on college: "The college search has just begun! Right now I am really open minded, I love a diverse campus in all aspects of the word. Growing up in LA, I definitely want access to a city, while still having a slightly closed campus. I'm a junior and definitely want to go to college to study sociology, but I also have a full time job. Fortunately, Kenya Barris and Jonathan Groff (creator and show runner) both know how important school is to me, so I'm looking at programs that allow for that flexibility to continue playing Zoey. I've visited Harvard, Spelman, Howard, Columbia, and want to look at Georgetown, Brown (my TV mama's alma matter), UCLA, and NYU!"
Marcus on his Marvel obsession: "I watched Captain America: Civil War with my mother for Mother's day, because she's also a comic book fan and she loves superheroes, so that was a lot of fun. It was definitely a bit crazy because I like the character of Iron Man, but watching the movie, I also agreed with Captain America, on how he wanted the Avengers to stay a private organization so that they could do the good that they thought. So it was a confusing moment for me, trying to side with the two, but it was fantastic—and the new Spider-Man was amazing."
Marsai on Diane: "I think what can Marsai not do in real life. Marsai can't roll her eyes, she can't ignore her parents or be sassy or mean. So I take all that stuff that Marsai doesn't do—and put it into my Diane."
Miles on his musical interests: "Kendrick Lamar, Drake. Kendrick Lamar's unmastered Untitled album is really good. I'm also really into Drake's new album views. Old-school, I like Stevie Wonder, The O'Jays. You know, some of those guys into Drake's new album Views. Old-school, I like Stevie Wonder, The O'Jays. You know, some of those guys."
For more on Yara, Marcus, Miles and Marsai, head to Bello.com now!
Like Just Jared Jr. on FB