Tue, 24 May 2016 at 3:00 pm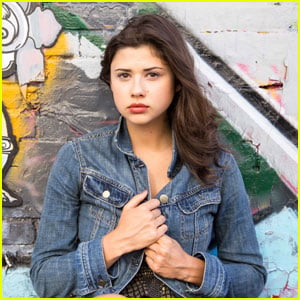 Let us introduce you to the super talented Amber Coney!
She stars in the upcoming Freeform horror series Dead of Summmer, which premieres on June 28!
The show follows the story of a group of camp counselors at Camp Stillwater where ancient mythology awakens, and what was supposed to be a summer of fun soon turns into one of unforgettable scares and evil at every turn.
Amber plays Carolina "Cricket" Diaz, a warm, snarky camp counsellor who is harboring deep-seated issues beneath her carefree, fun-loving exterior.
"The best parts about being in Dead Of Summer are the deep, interesting stories we get to tell, and the opportunity to create the reality of it all with other amazing artists!" Amber told JJJ.
Check out 10 fun facts she shared with us:
1. My first role ever was playing Alice in my elementary school's production of Alice in Wonderland… which is also one of my favorite Disney movies.
2. I love to write – screenplays, poems, and my inner thoughts in my journal.
3. As a kid, I used to have a pet chameleon named "Cleo." I also had two dogs named "Bean" and "Ginger."
4. I'm a bookworm. I try to always have a book that I'm reading on hand.
5. I've never visited Europe… But I'd like to travel the world!
6. I love all kinds of fruit, and I'm one of the rare people who actually enjoys eating vegetables.
7. A lot my clothes have formerly been in friends' wardrobes. I'm the beneficiary of many fashionable hand-me-downs.
8. For exercise, I like to run, do yoga, hike, or hit the dance floor on a fun night out.
9. I prefer to take photos old-school, with a disposable or Polaroid camera.
10. I love to watch good movies that I haven't yet seen.
Like Just Jared Jr. on FB