Sat, 28 May 2016 at 11:30 pm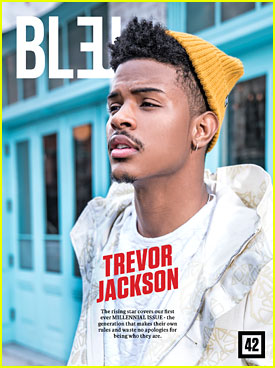 Trevor Jackson takes over Bleu Magazine's newest cover.
The 19-year-old actor and singer opened up to the glossy about his new music, American Crime and more. Check it:
On where people think they know him from: "It's the funniest thing. People who know me as an actor don't know I sing. Then there are people who know that I sing and don't know that I'm an actor. So now, it's starting to come together. People are putting the name with the face and it makes sense, but I just want to give it all that I've got while I'm here."
On his music: "My goal was to make an album that is not just a bunch of singles, but an album that can be listened to from top to bottom. I wanted every song to say something, to be an experience and to be a complete body of work…This whole project was basically just me coming into my own. When I got signed, I was very young. I was listening to a lot of people with a lot of opinions. I had to grow up as a man which forced me to grow up as an artist."
On American Crime: "It was definitely hard in terms of real acting, but it pushed me. It pushed me to a different place. I had to access a completely different mental space. [My character] Kevin's family having money had a lot to do with how he treated other people. It was never in a disrespectful kind of way, but I feel like he just wanted to do the right thing."
For more on Trevor, head to BleuMagazine.com.
Like Just Jared Jr. on FB