Thu, 02 June 2016 at 1:30 pm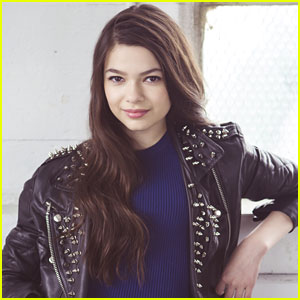 There are just over 20 days to go until the premiere of Adventures in Babysitting on Disney Channel!
JJJ caught up with one of the stars of the film, Nikki Hahn, and learned so much about the movie, and her!
"Working with Sabrina [Carpenter] and Sofia [Carson] was like a never ending party," she told JJJ. "We sang, we danced, oh and we worked too. Then we hit repeat! A true adventure!"
Check out the 10 Fun Facts we learned about Nikki below!
1. I'm double jointed and it really helps me with positions in ballet.
2. When I was 3, I fell down while trying to feed some pigeons and ended up in the emergency room with six stitches on my eyebrow. I like my scar though!!
3. I was an early talker. So at 7 months old, I spoke my first word,"applesauce".
4. I'm lactose intolerant but I still eat cheese and ice cream. #yolo
5. I learned all the songs off of Taylor Swift's 5 albums on guitar last month just because I love her. I think that qualifies me as a Swiftie!!!
6. I can sleep through anything.
7. I had a food fight in first grade at a private Catholic school defending my friend from a bully. I didn't know it was such a crime.
8. I used to have an imaginary fairy named Roxie.
9. My lucky number is 13. I was born on November 13th and my 13th birthday was on Friday the 13th.
10. I once made up a weird dance called Garlic.
Adventures in Babysitting premieres Friday, June 24th @ 8PM ET/PT on Disney Channel.
Like Just Jared Jr. on FB