Sun, 05 June 2016 at 11:30 pm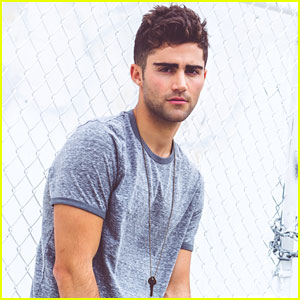 Max Ehrich is a part of many, many projects — so many that you probably didn't know about a lot of them.
The 24-year-old actor opened up with the June 2016 issue NKD mag about preferring drama over comedy, the best master acting class and more. Check it:
On 100 Things Do To Before High School: "I think comedy is funny when you play it like a drama, if you commit to it and aren't looking for the laugh. Doing the Nickelodeon show was actually a challenge for me. It was one of my hardest jobs I'd ever had because I'm just not that – I'm not a – I don't know my acting is very like subtle and behind the eyes, and kind of – it's less extroverted and more introverted, and it's not like that on the Nickelodeon show so they kept having to be like 'Max, more more!' So I just ended up drinking so much coffee.
On Young and the Restless: "I don't think many people know how hard it is to shoot a Soap Opera. You do a scene in one take. You do an episode in one day. So people who do theater are – it's pretty much doing live theater that's taped, and I don't think many people know that. That actually was such a great like – I don't wanna say training but kind of like a master class on acting. [E]very single day was given like these crazy story lines where I'm like on drugs, killing someone, pushing someone off a roof. Like crazy things all the time, and then having to like get there in one take and having to memorize like 40 pages in one day."
On The Path and Aaron Paul: "I remember reading the script and I saw that he was attached and I was just like 'this project is amazing.' I knew that it was groundbreaking and that is was so relevant, and I wanted to be part of it so I was so happy that I was able to…Aaron Paul, like the first day I had, I wasn't even in a scene with him and he went out of his way to just come up to me and and just start – just like talking to me about how cool my character is and stuff and I was just like 'holy s*** Aaron Paul is talking to me!'"
Like Just Jared Jr. on FB