Sat, 11 June 2016 at 3:27 am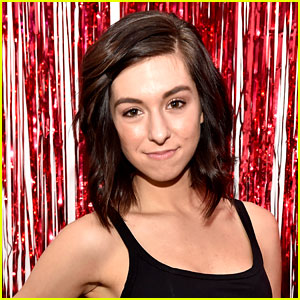 We are completely in shock by the news of Christina Grimmie's death and celebs are remembering the talented singer on Twitter.
The 22-year-old singer became a successful star thanks to her YouTube page and then she was a finalist on The Voice a couple years ago. She was shot by a gunman outside of her concert on Friday night (June 10) in Orlando, Fla.
Christina was greeting fans outside of the venue when she was reportedly shot multiple times. Her brother was by her side and tackled the gunman, who then shot and killed himself.
Christina later passed away in the hospital due to complications from her injuries. We send our thoughts and condolences to her loved ones during this difficult time.
Click inside to read what more celebs are saying about Christina Grimmie's death…
So sad about the news of @TheRealGrimmie. No words. Praying for her family so hard. #prayforchristina

— Kiesza (@Kiesza) June 11, 2016
i have no words. rip christina????
see you again, love. isaiah 25:8 https://t.co/z6d4joaMPQ

— Tori Kelly (@ToriKelly) June 11, 2016
So sad right now. My thoughts & prayers go out to Christina Grimmie's friends/family. What an incredible talent that won't be forgotten

— Colton Haynes (@ColtonLHaynes) June 11, 2016
#RestInPeaceChristina Thank you for the music. #ForeverAndAlways #InOurHearts

— Sofia Carson (@SofiaCarson) June 11, 2016
At a loss for words and absolutely sick to my stomach. So lucky to have had a friend so purely good and impossibly talented. #RIPChristina

— Sam Tsui (@SamuelTsui) June 11, 2016
i am beyond devastated i don't even know how to put together the right words to express how i feel. rest in peace Christina ??

— Ricky Dillon (@RickyPDillon) June 11, 2016
A really sad night. #RipChristina you had the voice of an angel. Now you can sing in heaven. May God heal your family. #Gonetoosoon

— Kenny Hamilton (@KennyHamilton) June 11, 2016
RIP @TheRealGrimmie ????????

— ForteTenors (@ForteTenors) June 11, 2016
22 years old… gone far too soon. rest in peace Christina Grimmie. i'm beyond disgusted

— Anthony Quintal (@LOHANTHONY) June 11, 2016
Sending so much strength and courage to your family, friends and fans. #PrayForChristina

— Hayley Kiyoko (@HayleyKiyoko) June 11, 2016
I never knew you Christina, but my god. I am so sorry. So sorry. This is a nightmare nobody should ever have to encounter. This is not okay.

— Hayley Kiyoko (@HayleyKiyoko) June 11, 2016
Devastating. #ripchristinagrimmie how is this real??!!!! Sending all prayers to her family. So angry the world lost such a beautiful soul.

— Ally Maki (@allymaki) June 11, 2016
It's not fair that people can be taken for doing what they love. What they live for. Sharing music. It's just not fair. #RIPChristina

— Jeffery Austin (@JefferyAustin) June 11, 2016
Wow. Rest in peace Christina.

— Trevor Moran (@TrevorMoran) June 11, 2016
Another incredible talent gone too soon. My prayers go out to her and her loved ones. This is heartbreaking. ???????? #RIPChristinaGrimmie

— Anna Perez de Tagle (@AnnaMariaPdT) June 11, 2016
my heart is broken. I can't even begin to express how devastated I am. rest in peace you amazing beautiful gifted girl. I love u so much.

— Shane Dawson (@shanedawson) June 11, 2016
in a state of shock at the passing of @TheRealGrimmie .Was lucky enough 2work w/her a couple times &she was such a source of light &kindness

— Jon M. Chu (@jonmchu) June 11, 2016
an artist's worst nightmare. praying for you @TheRealGrimmie ????????#PrayForChristina

— Olivia Holt (@olivia_holt) June 11, 2016
So terribly tragic. May she rest in peace.

— Rowan Blanchard (@rowblanchard) June 11, 2016
oh my god. oh my god. my heart is so cold and heavy. in awe. i got to sing with u last year. rest in peace angel ???????? #RIPChristinaGrimmie

— JOSH LEVI (@JoshLeviWorld) June 11, 2016
No no no no no no. NO. #RIPChristina

— Alyson Stoner (@AlysonStoner) June 11, 2016
We can't believe what has happen with @TheRealGrimmie! R thoughts and prayers go out to her family.

— Ochoa Boyz You Like (@OchoaBoyz) June 11, 2016
i don't know what to say… #RIPChristina

— Karan Brar (@TheKaranBrar) June 11, 2016
Like Just Jared Jr. on FB