Sat, 30 July 2016 at 3:00 pm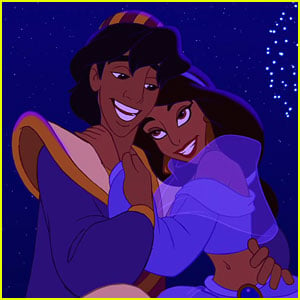 Adam Horowitz and Eddy Kitsis are opening up about the Aladdin storyline coming to the upcoming season of Once Upon A Time.
Speaking with THR, the showrunners dished about Aladdin and Jasmine's love story on screen, Jafar being a new big bad and more. Check it:
On introducing the Aladdin story to Storybrooke: "It's been a long time coming. We talked about using these characters pretty much since the first season, internally. It was always about the right time and when it would fit into the storytelling the way we wanted to. With the Land of Untold Stories and with Jekyll and Hyde I think you'll see that the Aladdin, Jasmine, Jafar story folds in neatly."
On leaving the Genie back in Agrabah: "Obviously, I don't think we would touch the genie. I would like to see a monkey but I can't promise anything. I think, whereas some stories, like Frozen, we were very faithful to Frozen, I think you will see Aladdin will have its own Once twist."
On Jafar's evilness: "I think it's the Once Upon a Time tone, which is to say that dark things happen but it never gets bleak, which is the difference we always draw. Despite how dark and scary things can get, there's always a hopefulness at the core of the storytelling. I think with the Aladdin story and how it meshes with the Once Upon a Time story, the same will hold true. We're not going to pull any punches with Jafar in terms of being a really dark and evil character."
On Jasmine and Aladdin's love: "I would say that it's a little of everything. I think that their love story is such a central part of their story that we want to honor that. I think that we're going to open up a new avenue for Aladdin and Jasmine in our little cul-de-sac."
Karen David will star as Jasmine, with Deniz Akdeniz as Aladdin and Oded Fehr as Jafar when Once Upon A Time returns on Sunday, September 25th on ABC.
Like Just Jared Jr. on FB