Sat, 30 July 2016 at 2:30 am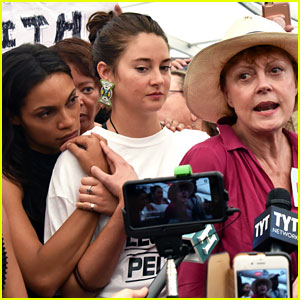 Shailene Woodley joins other celebs while showing their support for former Senator Nina Turner during a press conference at the 2016 Democratic National Convention on Wednesday (July 27) in Philadelphia, Penn.
The 24-year-old actress, who called out the DNC this week for "false narratives," was joined by Rosario Dawson, Susan Sarandon, and Danny Glover to support Turner, a Bernie Sanders backer who says she was kicked off the DNC program without any reason given.
Rosario and Shailene spoke with The Young Turks about Turner and why they are skeptical about Hillary Clinton being the Democratic nominee.
"If you tell someone, 'You have to vote for this person to prevent A, B, C and D,' I don't think there's going to be much momentum," Shailene said.
"When I'm at the DNC and I'm seeing Trump's name everywhere because 'Love Trumps Hate,' I want to know that that love is actually there. Saying that you're better than Trump is not saying very much … I think it's important that [Sanders supporters'] votes are earned and not just expected to be delivered," Rosario said.

Rosario Dawson And Shailene Woodley On The Young Turks To Discuss #ImWithNina
Like Just Jared Jr. on FB