Wed, 03 August 2016 at 1:00 pm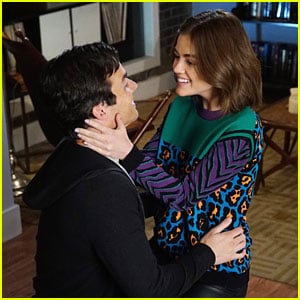 SHE SAID YES!
Ezra (Ian Harding) got down on one knee again to Aria (Lucy Hale) in last night's episode of Pretty Little Liars and SHE SAID YES!
After coming clean with him about her involvement in killing Elliott Rollins aka Archer Dunhill, Ezra was willing to look past it all in the name of love.
Speaking with THR, Ian opened up about the duo's nuptials, their future and more. Check it:
On Ezra and Aria's wedding: "They're pretty in sync with each other, so they could combine dreams. She would probably do a lot of boho-chic stuff, but he would want it in one of the cities of his favorite writers like Paris or London or even further, like Prague or Lisbon. They would want a destination wedding more than anything."
On living in Rosewood: "Geez, anywhere but Rosewood! Why are they still there, dear God? People are dying every other week. I can't imagine the property values are very high there with the amount of murder that's happening. I think some dust bowl in the middle of Oklahoma would be better than Rosewood. They'd probably live abroad for a few years and get as far away from the shenanigans of their Philadelphia suburb. They would try Europe, maybe Canada for a bit."
On Aria coming clean with Ezra: "Especially after what we saw tonight, it would be very hard to break up their love and respect for one another. There are a few scenarios I could imagine playing out that might really disrupt things, but people will have to watch that. Our immediate storyline will be seemingly very lovely and then, you know, not. Nothing is ever fine and good in Rosewood."

Aria's Answer To Ezra's Proposal 7×06 Pretty Little Liars
Like Just Jared Jr. on FB