Mon, 08 August 2016 at 12:00 pm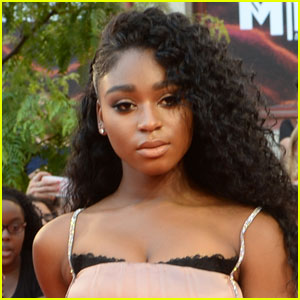 Normani Kordei has a lot of friends in her corner.
The 20-year-old Fifth Harmony singer sadly left Twitter after enduring vicious, racial cyber-bullying that no one should ever have to tolerate.
Some of Normani's famous pals, including Zendaya, Keke Palmer, Gina Rodriguez, and JoJo, are coming to her defense and spreading messages of acceptance, love, and compassion.
Her 5H girls – Camila Cabello, Dinah Hansen, Lauren Jauregui, and Ally Brooke – also all spoke out.
Zendaya: "Stay strong baby girl, so much love for you…The sad part is that it's so common, that type of racially charged hate as black woman in this industry, you deserve so much more sis."
Keke Palmer: "Jealousy is the tribute mediocrity pays to genius. It's genius to learn how to tap into sharing your gifts, an ability we all have. However, when you are incapable of letting go and doing just that, it's quite easy to tear down those that do! You are such a beautiful girl Normani, what others say about you is a reflection of them NOT you. Delusions may try to cloud your mind but when things get me down I try to meditate or pray or do yoga .. I also remind myself of all the people that love and support me, #perspective. I'm sure you have your own set of things you do but me & the kids all love you, just wanna remind u! #PVO all day."
Click inside to see more celeb support for the beautiful Normani…
JoJo: "Cyber bullying goes. too. far. Disturbing and despicable. Social media should be fun and unifying, not scary and hateful. We can do better as a generation. I support love and uplifting one another every chance we get. Life is strange and challenging. Empathy & compassion can go a long way. Normani, no1 deserves the abuse (I just found out) you recently endured on the Internet. Demented trolls. Sending u LOVE. Keep shining."
Gina Rodriguez: "I don't stand for racism and Normani has all of my support. All my love, all my protection. I do not play this game"
Camila Cabello:: "i stand by the words "love only", meaning I won't tolerate on my timeline any kind of hate, racism, or discrimination towards ANYONE. period. You don't have to hate on somebody else to support me- I don't appreciate it and it's not what I'm about.. Be kind or move on. I never go on rants like that but there's so much cruel stuff going on in the world right now- let's be part of the healing, not the problem. darkness cannot drive out darkness, only light can do that. hate cannot drive out hate, only love can do that.
Dinah Hansen: "Over the past 48 hours I have heard and seen too much over an issue that is so small, but yet has become so big -With all the pain in the world right now, it shocks me each and everyday that people still devote their time to bringing others down other-than lifting them up . It does not make you"cool" . It does not make you 'clever.' It makes you a damn coward, nothing less. Do not take your time to hate. Take your time to love. It will always go farther . -DinahJane"
Ally Brooke:
Lauren Jauregui:
Like Just Jared Jr. on FB