Tue, 09 August 2016 at 1:40 pm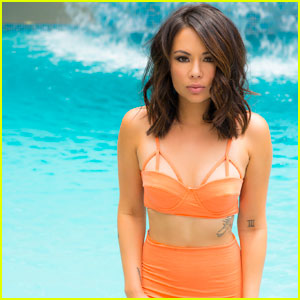 Janel Parrish embraces summer in an orange bikini in these gorgeous new photos provided exclusively to JustJaredJr.com!
We caught up with the 27-year-old actress about her recent Teen Choice Award win, all things Pretty Little Liars, and what's next for her. Check it:
JustJaredJr.com: Congrats on winning Choice TV Villain at the TCAs! How does it feel to have the title back?
Janel Parrish: Thank you! It's so amazing…it's my third win and I honestly am so grateful the fans have taken to Mona as much as they have. What can I say, playing a villain is too much fun!
JJJ: Do you consider Mona a true villain or is she just misunderstood?
JP: I think she has had her moments. I think she was always misunderstood, which turned her into a villain in some ways…ultimately, Mona does what she needs to do to get what she wants. If that makes her a villain sometimes, so be it ;)
JJJ: She's been trying to stay on the good side of the Liars lately, but it seems fans will always question her real motives. Is it fair to be suspicious of her?
JP: Always! I think that's what makes her character fun…the "is she or isn't she" of it all. This season though, I really think Mona is proving herself to be an asset and friend to the liars. She has been wronged just as much as the others at this point, and she has had enough.
Pretty Little Liars airs Tuesdays @ 8PM on Freeform.
Click inside to see more photos and read the rest of our Janel Parrish interview…
JustJaredJr.com Interview – Janel Parrish
JJJ: There's a lot of talk about the series ending soon. How do you feel when you think about the show wrapping up?
JP: It's definitely the end of PLL as we know it…who knows what is in store! Ugh my heart breaks to think about the show ending. It's been 7 years of magic and I have fallen in love with Mona. But I am very excited for the next chapter of my life and career and anxious to see what happens next!
JJJ: Do you have any hopes for how Mona's story will end?
JP: I hope she finds happiness. She has had such a turbulent journey on this show! She deserves a happy ending!
JJJ: As for this season, Ezra just proposed to Aria. What's been your take on their relationship over the course of the series?
JP: I've always been an Ezria fan! They're love has endured many obstacles and they always come out stronger than ever.
JJJ: Did you have a stake in the Spencer/Caleb/Hanna love triangle?
JP: I mean…I've always been a Haleb fan. They belong together!!!!
JJJ: When the show is all said and done (whenever that will be), is there a specific Mona moment, episode, or memory that will stick out to you most?
JP: For me, always my A reveal. I had the privilege of being the first A! I was so terrified I would play it wrong and not be able to give the fans the face to the hoodie that they wanted. I was nervous and anxious while filming that whole episode, but it made it special for me. I loved being able to wear that hoodie!!
JJJ: What other projects do you have on the horizon that you'd like to tell us about?
JP: I just finished a film called Tiger that I'm so excited about! I got to work with Mickey Rourke and sink my teeth into a challenging role. It was a dream job and I'm excited to see where it all leads!
FYI: Janel is wearing a peach Eco Peace by Aqua Green swim suit. She is wearing an Elisabetta Franchi blue sequin ombre gown.
Like Just Jared Jr. on FB