Thu, 11 August 2016 at 7:40 pm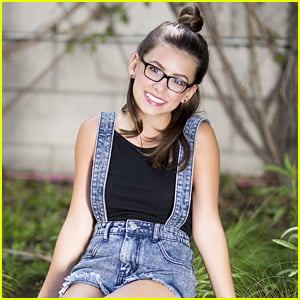 We don't know about you, but we're pretty much obsessed with Madisyn Shipman.
The 13-year-old actress stars as Kenzie on our guilty pleasure show, Game Shakers, with Cree Cicchino, Lil P-Nut, Thomas Kuc and Kel Mitchell.
When JJJ hung out with Madisyn recently, we found out the 10 coolest, and fun facts about her. Check it:
1. I'm literally obsessed with Dr. Pimple Popper and her YouTube videos! I know, I know, you think it's gross, but watch it once and you will go down the rabbit hole!
2. I love, love, love sushi! My favorite sushi restaurant is Kabuki and my go-to's are the lotus on fire roll, sun-kissed roll and spicy tuna on crispy rice.
3. I love working out. I do a lot of kick-boxing and cycling. I normally bike about 15 miles.
4. I love cooking and creating my own recipes. Who knows, maybe one day I'll have a cooking show.
5. When I was 7 years old, I played my guitar and sang in Times Square on a few occasions.
6. My family and I are crazy, insane lunatics when it comes to Halloween. My dad usually makes our costumes. Homemade costumes are the best!!
7. I wear glasses in everyday life. I'm blind as a bat and can't see without them.
8. I am a true country girl. I was born and raised in NC until I was 6 years old. We had several horses, and believe it or not, I love riding 4-wheelers and getting dirty!
9. I love writing and have wrote several songs. I actually recorded a 6 song EP when I was 10.
10. I cannot dance to save my life. So instead of trying to dance well in public, I dance really bad really well.
Stay tuned for a takeover with Madisyn soon!
Like Just Jared Jr. on FB