Fri, 12 August 2016 at 11:30 am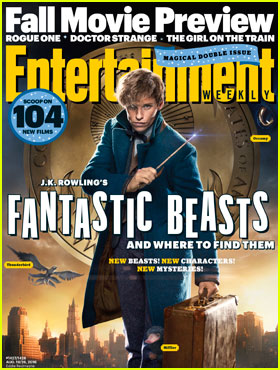 Eddie Redmayne carries his special briefcase on the new Fantastic Beasts and Where to Find Them cover of Entertainment Weekly, which hits newsstands on August 12.
The Oscar-winning actor portrays magizoologist Newt Scamander, who "chases the mayhem-causing magical creatures that have escaped his briefcase and remain on the loose in 1926 New York."
"There is a dark aspect to it," Eddie said about the movie. "I think it's going to be surprising how moving it is."
His co-star Colin Farrell added, "[J.K. Rowling] could take a place like New York, a city we're all familiar with, and present it in a way that's recognizable yet brand-new. She pulls back the corner of the picture and shows you another world behind the veil."
Mark your calendars – Fantastic Beasts and Where to Find Them drops into theaters on November 18.
For more on Eddie and the cast, visit EW.com.
Bigger cover below…
Like Just Jared Jr. on FB