Mon, 22 August 2016 at 10:30 am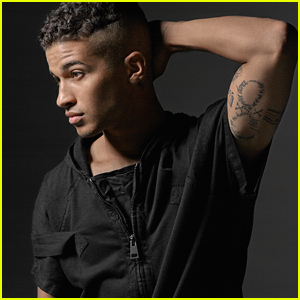 Jordan Fisher is talking about the Black Lives Matter movement and opening up our eyes again about what's happening in the world.
"It's sad that it's a conversation that has to be had. That's really just the way that I look at it. It's sad to me that it's a thing. Obviously the movement needs to be present. It needs to be prominent. Everyone needs to know what's happening," the 22-year-old "All About Us" singer shared with Vibe.
Jordan continued, "I was having a conversation with somebody recently about this kind of thing. The argument was do we think that there was as much of this happening when social media wasn't a thing and I can't say that I think that there wasn't. I just think that we see it more now. A lot of people say news is propaganda, and I believe that to an extent, but this is a real life thing that is happening. My life motto is 'Would you be proud to die this way?'"
He added, "There's violence happening and brutality happening in a world where we desperately need love. And an affinity towards our race and our genders and just who we are as human beings. Our species. We need love so badly right now. It's hard to talk about for a lot of reasons. I mean obviously it's easy to get emotional about these kinds of things. My question is just where, when and how does this stop? I don't know that a lot of people are thinking about that. They're just thinking about how angry they are at the people who made the mistakes that they did. I hate that it's a conversation that needs to be had, but it's definitely a conversation that has to be had."
Here's what else Jordan shared:
On his EP's impression on people: "Timelessness would probably be a good one. Entertainment would probably be another one. I want to do this for the rest of my life. This is all I wanna do; I want to entertain. I want to make music. I want do film. I want to go on tour, work on Broadway, you know? Fall in love, get married, have a bunch of kids, go back on tour, work on Broadway again, put out another album and repeat until the cows come home. And figure out a way to be involved in other things that I love."
On his own experience with racism: "Not violence, thank God. A couple of social instances. I'm very, very, very mixed. My family is from England, I'm Polynesian, I'm Cambodian, I'm Nigerian, I'm Italian, I'm Greek, I'm Scandinavian. I'm a melting pot of everything. My family looks like a GAP ad. They do. There's a little bit of everything. It's beautiful. I think it's exactly what an American family should be. That said, being from a small football town in Birmingham, Alabama, I really was one of the only people that looked like me. People didn't really know what to think about that. I worked at Game Stop when I was 16, part-time, and had somebody refuse my service. My Irish white manager came around the corner and said 'You can leave my store and never come back.' This super, super southern short little white dude that was managing this Game Stop kicked this massive dude out of the store that wouldn't let me serve him because of the way that I look. It goes back to that motto, 'Would you be proud to die this way?' Whether you're Christian or whatever, do you think that would be condoned by the big man upstairs? Would your mom be proud of that? Would your dad be proud of that? Maybe. Probably. I find that that is much more of a nurture thing than a nature thing. How is that right? And it's not unfortunately, but, again, I can't sit and be mad about that because it started somewhere way, way, way earlier than them. And probably his parents and probably his parents before that. It's unfortunate, but it's not my place to sit and try to throw stones. It's my obligation to love and forgive."
Like Just Jared Jr. on FB